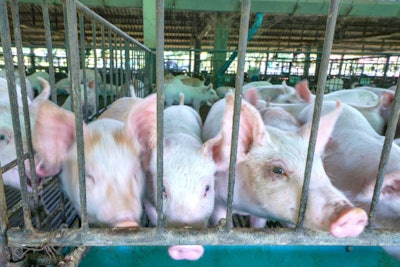 Lactose is an important nutrient that significantly drives feed intake in post-weaned pigs
Even though modern piglet feeds contain less lactose than feeds designed 20 years ago, this reflects only the recent removal of antibiotics from feeds and not a fundamental change in animal requirements.
Lactose remains a very important nutrient for young pigs especially during the post-weaning period when starch digestion capacity is not fully developed. Lamentably, the exact role and mode of action of this important nutrient is not widely understood, limiting the benefits that could be reaped from properly employing it as a feed intake enhancer in post-weaning diets.
The role of lactose
The beneficial effects of lactose on feed intake and growth rate during the immediate post-weaning period are well documented. The sources of lactose used in early studies were skim milk (50% lactose) and dried whey (70% lactose). Today, there are more lactose-bearing dairy products that can be less expensive yet equally effective in supplying lactose. These include crystalline lactose, deproteinized whey, whey permeate, milk chocolate product, cheese powder and whey protein concentrate.
It has long been known that pigs less than 8-10 weeks old cannot utilize starch very effectively, although starch digestive enzymes can be rapidly induced by dietary substrate (starch). Nevertheless, weaning stress accompanied by low feed intake prolongs physiological maturation of the digestive system and, for this reason, simple sugars (such as lactose) and cooked cereals are generally more digestible than raw starch. So, it is widely accepted that piglets benefit from readily digestible carbohydrates until their digestive system is fully capable of utilizing raw starch.
Diets based on cereals and vegetable protein sources can support greater growth performance when supplemented with milk products such as dried whey and skim milk. Inclusion of 10-20% dried whey in simple diets (corn, soybean meal, and oat groats) has consistently improved growth performance by at least 15% in pigs weaned at three weeks of age.
Initially, the effectiveness of dairy products was attributed to increased palatability and protein digestibility. However, it has been demonstrated since then that lactose and not the protein fraction of whey is responsible for improved feed intake and weight gain during the first weeks post-weaning. In these trials, lactose supplementation restored growth performance in diets devoid of dried whey, whereas lactalbumin supplementation failed to improve performance (Table 1). It should be noted that supplementation with a highly digestible source of protein or crystalline amino acids was essential for lactose to elicit its beneficial effects in whey-free diets. In the same studies (Mahan, 1992), it was demonstrated that after the first two weeks post-weaning, piglets responded more to protein supplementation, an indication of a rapidly maturing digestive system and increased need for highly digestible protein.
Lactose specifications
Several studies have investigated the level of dietary lactose concentration that supports maximal growth performance in weaned pigs. These data suggest the following:
High concentrations of lactose are needed immediately post-weaning
Lactose concentrations can be reduced rapidly afterwards
Piglets heavier than 10-12 kg in body weight do not benefit greatly from supplemental lactose
Although responses to lactose have been variable, due to basal diet composition, genetics, environment, and health conditions, most experiments report similar lactose requirements for nursery pigs. Therefore, practical recommendations for dietary lactose specifications are presented in Table 2. These levels represent maximum levels that can be used to drive feed intake.
Modern lactose levels
Diets for piglets weaned beyond 21 days of age usually contain lower lactose levels than those presented in Table 2. It is assumed that later weaning enables pigs to consume some creep feed that would enable some maturation of the digestive system until weaning. In addition, when animal plasma is included in sufficient amounts, lactose levels can also be reduced, but this requires further documentation.
Finally, diets devoid of antibiotics are supplemented with minimal levels of lactose. This is done first to offset the expense toward antibiotic replacements and secondly because lactose can be a mild laxative. In certain regions, piglets never receive any diet with more than 5% lactose, which should be considered as the absolute minimum for any piglet feed. Most recently, it has been proposed that diets supplemented with certain oligosaccharides (prebiotics) may enable a slight reduction of lactose as lactose is known to have a mild prebiotic effect, especially at the upper gut segment.
Lactose equivalents
Earlier studies indicated that although weaned pigs prefer lactose over starch, they can also use other forms of simple sugars. Monosaccharides (for example, glucose, fructose and maltose) and oligosaccharides (for example, sucrose and maltodextrins) can be as effective as lactose in supporting growth performance. The term "lactose equivalent" has been proposed as more appropriate to express dietary specifications for simple sugars, as piglets do not have a requirement for lactose per se.