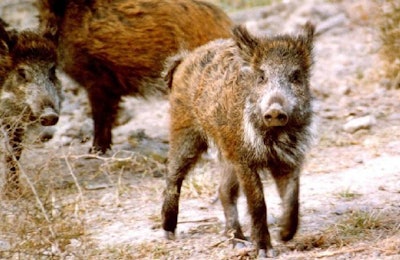 In Europe, wild boar populations continue to be devastated by ongoing African swine fever outbreaks.
Over the past week, Romania has officially registered a further 17 outbreaks of African swine fever (ASF) among its domestic pigs.
According to the report to the World Organisation for Animal Health (OIE), these directly affected a total of almost 300 animals as a result of mortality or culling. The largest individual herd involved comprised 65 pigs. The latest outbreaks were widely distributed across the country.
This month, ASF virus was also detected in the only pig on a smallholding in Russia's Kaluga oblast.
So far this year, there have been nine confirmed outbreaks in western Russia, according to the OIE. These have impacted some large farms in the regions of Kursk and Tambov, affecting a total of more than 92,000 pigs.
In the week up to February 3, three European countries registered ASF outbreaks in domestic pigs with the European Commission (EC). According to its Animal Disease Notification System, there were Romania (31 outbreaks), Serbia (two), and Ukraine (one).
4 European states register new outbreaks in wild boar
ASF-related mortalities and culling continue in Romania's wild boar population. Over the past week alone, 109 animals have been lost, according to the OIE.
Also registering new cases with the OIE are Latvia (13 animals) and Germany (two).
Since the start of February, 22 cases of ASF have been detected in wild boar in eastern Germany. Latest update from the national veterinary agency, the Friedrich-Loeffler Institute shows that 20 of these cases were in the state of Brandenburg, and the other two in neighboring Saxony. All the animals were found in municipalities that had recorded previous cases.
Poland's chief veterinary office has released details of 160 outbreaks of ASF relating to wild boar up to the end of December last year, and a further 251 so far this year. Total number of animals involved was 716.
Recording the highest number of cases so far in 2021 — 147 — is the western province of Lubusz, which borders Germany. Seven other Polish provinces have registered at least one case this year, according to this source.
Over the past week, the EC System has recorded 378 new outbreaks of ASF among European wild boar. Cases were confirmed in 10 countries, with Hungary (121 outbreaks), Poland (111) and Romania (58) registering the most cases over this period.
View our continuing coverage of the global African swine fever situation.