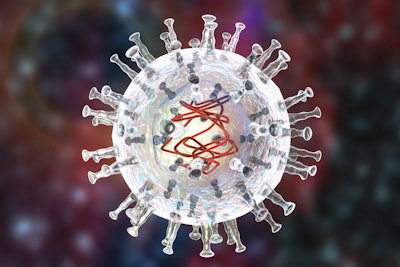 African swine fever virus has undergone natural mutations that make it less deadly to pigs but harder to control, according to new research.
Scientists in China have identified new strains of the African swine fever (ASF) virus that are less deadly than those that caused the previous outbreaks in 2018 and 2019.
Citing a published scientific paper, Reuters reports that the new variant emerged as a result of natural mutations. Although it causes less mortality than the previous virus strain, the new variant leads to clinical symptoms in sows that are more difficult to control.
Previously, it was reported that the same virus characteristics may have been linked to the development of unregulated vaccines.
According to the Reuters report, this latest virus variant was detected in samples of pork from a market in Hubei province.
Pigs culled in Hong Kong
As many as 240 pigs have been culled in Hong Kong, reports The Standard. The move comes after positive ASF tests from six animals in one building at a farm in the western New Territories.
Source of the infection is unknown, according to the officials. They say that cleaning and disinfection are being carried out at the farm.
Having tested negative for the ASF virus, pigs kept in other buildings at the same location are not scheduled for culling. Tests at neighboring farms have so far revealed no sign of the virus. However, authorities have put in place movement restrictions on pigs in the area.
In May 2019, approximately 6,000 pigs were destroyed after the ASF was first detected in Hong Kong, according to this source.
ASF 'safe zones' considered in the Philippines
A previous ASF outbreak in the Eastern Visayas region has spread, reports Philippine News Agency (PNA).
In recent days, cases have been discovered in three more towns in the affected province, Leyte. First infections in this region were detected on January 14 in the town of Abuyog. Almost 2,000 pigs were culled in that area over the next three weeks.
After confirmation of the latest spread of infection, the provincial governor is looking into the setting up of ASF "safe zones." Located well away from residential areas where there are many backyard herds, commercial farming may be able to continue in these protected areas. He also called for improved biosecurity around pig farms, and better communication with pig raisers about the disease.
Meanwhile, in the Soccsksargen region in south-central Mindanao, the Department of Agriculture is raising awareness of the threat of ASF at community level. According to PNA, there have been no new cases of ASF so far this year. Disease surveillance will continue in the border areas of the region. Ninety percent of this region's pork production goes to other parts of the Philippines.
Last week, PNA reported that almost 42,000 pigs have been culled as a result of ASF in the neighboring region of Davao. Of this total, more than 23,300 were from Davao Occidental, a province that borders Soccsksargen.
Impacts of ASF continue in India's Assam state
In the northeastern state of Assam, farmers report that ASF has decimated pig production. In some districts, every pig died, leaving their owners facing severe economic hardship.
With two out of three people in the area eating pork, commercial pig production had expanded since 2017 to meet local demand, reports Scroll.
In 2019, the pig farmers' association warned of the ASF threat from China. By February 2020, early signs of the disease were numerous pig carcasses dumped in rivers in Arunachal Pradesh and Assam. According to this source, the mortalities were only confirmed by the government in May.
Farmers say the number of pigs affected could be 10 times higher than the 18,200 officially recorded in Assam. They also allege that the government's promise of assistance with culling did not materialize.
Furthermore, they complain that a court order to halt pig transports in the region without a vaccination certificate amounted to an effective ban on all movements. With no vaccine commercially available, the result was a black market in pigs and pork products. Local farmers say they still cannot obtain pigs from other states to restock.
Meanwhile, Scroll reports a call from the farmers' association for a controlled lifting of the transport ban. They also request from the government monetary compensation for the cull.
Russia, South Korea report new ASF cases in wild boar
A further 37 wild boar have tested positive for the ASF virus in South Korea.
According to the latest official report to the World Organisation for Animal Health (OIE), the infection was detected in animals at 32 locations in the northern provinces of Gangwon and Gyeonggi. Since the virus was first detected in the country in September 2019, there have been many cases in all these areas.
In Russia's Far Eastern federal district, seven wild boar have tested positive for the ASF virus. These were found at two locations in Primorskie krai, according to the OIE report. They bring to 10 the number of wild boar affected by ASF in this federal district so far this year.
ASF outbreak in Tanzania confirmed
Further details have emerged about the first occurrence of ASF in Tanzania.
According to the official notification to the OIE, around 1,450 pigs died out of a village herd of 9,328 animals in the first week of January. The livestock ministry reports the disease affecting herds of up to 300 pigs at Kahama town in the Shinyanga region.
Source of the infection is blamed on the introduction of new animals, illegal pig movements, swill feeding and/or fomites. Specifically, traders and slaughterhouse workers were found moving between farms without following biosecurity precautions.
A previous report indicates the infection may have already spread to other regions of northern Tanzania.
In recent weeks, cases of ASF have been confirmed in three other African countries — South Africa, Togo and Uganda.
View our continuing coverage of the global African swine fever situation.