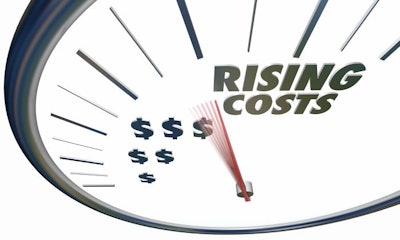 Increases could ultimately be passed onto consumers
Continued shortages of feed ingredients threaten to raise food prices in the Republic of Trinidad and Tobago, and some local companies are taking measures to mitigate the impacts on domestic production of meat and eggs.
In the face of rising feed prices, producers of animal products in the Caribbean state may have no option but to pass on the increases to retailers and, ultimately, to consumers.
According to the president of the national Supermarkets Association, his members have to accept what is handed down to them, reports Newsday.
With global production of feed ingredients curtailed and demand strong, Rajiv Diptee said imports would likely continue to become ever more expensive.
The association and the relevant ministries are said to be monitoring the situation.
Diptee's comments came after a previous announcement by privately owned feed manufacturer Mastermix that it will soon increase the prices of its livestock and poultry feeds.
The company said it was doing so in the face of rising costs of imported feed ingredients including corn and soybean meal. Another feed miller — state-owned National Flour Mills Ltd. (NFM) — said it will monitor the situation before making any price changes.
Domestic animal production under threat
In Trinidad and Tobago, locally produced meat and other animal products are generally more expensive than imported products, according to Diptee. Furthermore, he said supermarkets find it easier to manage supplies of imported and frozen meats than local fresh products.
The country's farmers fear that any significant price hikes in their products at supermarkets and other outlets will damage the long-term prospects for their businesses.
Egg producers and farmers who raise cattle, sheep and goats called on the feed company to postpone any increase in feed prices.
Previously, Newsday had reported the general manager of Mastermix confirming that feed prices will rise, despite these appeals.
According to the president of the Agricultural Society, the company's feed prices are set to increase by around 10%.
Boosting local output of feed raw materials
There has been some progress in increasing the production of feed ingredients in recent years.
According to Agriculture Minister Clarence Rambharat, examples are Central Duck Farm, Khan Organic Meats, and Aripo Livestock Ltd.
These enterprises have started to develop their own farms for grain production. Furthermore, the state has made additional land available for the expansion of the Nutrimix feed mill, the minister said.
Shortages blamed on Chinese demand, foreign exchange issues
In late December, limited supplies of imported corn and soybean meal were already impacting on the animal feed market in Trinidad and Tobago.
According to Trinidad Express, NFM was expecting the situation to normalize within two weeks. NFM attributed the shortages to high demand for these materials from China. As a result, loading capacity for other destinations was reduced at ports in exporting countries.
For NFM – one of the nation's three largest feed manufacturers – this led to a delay of three to four weeks in its corn and soybean deliveries, reported Loop. Over the previous two months, prices of these raw materials had risen sharply, according to the company.
One locally produced ingredient is wheat middlings – a byproduct of flour milling. However, the partial substitution of imported raw materials with wheat middlings has led to supplies of this product too running short.
At the time, the opposition party blamed the shortages on the government's lack of planning, reported Loop.
According to member of parliament Rushton Paray, the government had been warned about the likelihood of pandemic-related shortages of corn and soybean meal. Exacerbating the situation was freight forwarders' demands for payment in U.S. dollars during a foreign exchange crisis.
In 2012, feed price hikes in Trinidad and Tobago were blamed on U.S. drought. At the time, the Caribbean state imported almost 100% of its raw feed ingredient requirements.
Recent chicken meat supply issues
In August 2020, Trinidad and Tobago reported a shortage of chicken meat.
According to the agriculture ministry, these were attributed to interruptions in supply linked to the coronavirus (COVID-19) pandemic.
The minister said these were "isolated pockets" arising from the shutdown, and then restarting, of the foodservice sector. Local processors would soon be supplying the market fully again, he said.