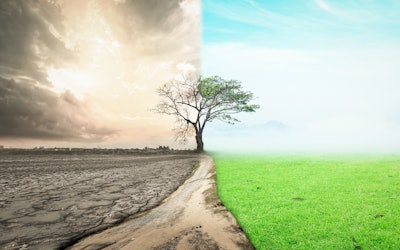 Choat Boonyakiat | Fotolia.com
Climate change is expected to affect livestock producers around the globe, but some low- and middle-income countries will bear the brunt of hazards such as extreme heat and flooding, according to new research published in the journal Nature Sustainability.
India, Brazil, China, Pakistan and Sudan topped the study's list of low- and middle-income countries most in need of investment to curb emissions and adapt local livestock production systems to a warming climate.
Countries were ranked according to the scale of local greenhouse gas emissions, including contributions to global warming through activities such as deforestation, as well as the value of their agricultural products, the size of their rural population, the amount of pasture land and number of livestock, and their likely exposure to climate hazards like drought and flooding, according to Julian Ramirez-Villegas, one of the report's authors and a professor of agricultural climate impacts and adaptation at Wageningen University in the Netherlands.
The study did not include high-income countries such as the United States in its list or rankings. Much of the investment — be it from government actors, non-governmental organizations (NGOs) or investors — originates in these higher income countries, Ramirez-Villegas said, and the objective of the study was to identify areas where these funds could be best put to use.
Ramirez-Villegas said he wasn't particularly surprised to see Brazil and China top the list, given that both countries are large agricultural producers and also known to be some of the world's top greenhouse-gas emitting countries. Pakistan and Sudan were more surprising, he said, but made the list on account of their heightened risk of climate change-induced natural disasters.
In many cases, livestock producers in these countries are supportive of practices that would improve livestock production and income in the face of climate change, but they don't have access to the resources that would be required to implement them, Ramirez-Villegas said. They often need access to lines of credit to help with upfront costs associated with changed production practices and new equipment.
But there are unique circumstances in each of the countries that made the list, Ramirez-Villegas said. Some, like Brazil, may benefit from supportive policy or policy enforcement to stop practices like deforestation that accelerate climate change and ultimately harm livestock producers at home and abroad. In other cases, as in India, most livestock production still takes place on a relatively small scale — individual households with a single cow they feed household residues. Investing in modernized, more efficient livestock production systems would go a long way to reducing emissions and improving climate protections for farmers, Ramirez-Villegas said.