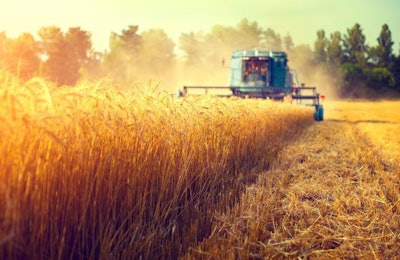 European Union forecasters have revised upwards the prospects from wheat, barley and corn harvests in Russia for the current season.
In Russia, grain yields and production have been boosted by good weather conditions. This is according to a new report from the European Commission's Joint Research Centre (JRC).
Across most of the Russian Federation, growing conditions for food and feed grains have been favorable since the season started, according to the JRC's Monitoring Agricultural Resources (MARS) Bulletin for September.
Only in southwestern regions of European Russia did crops suffer significantly from long-term rainfall deficit and the heatwave experienced across the continent.
Double-digit increases in Russian output of wheat, barley, corn
For wheat, JRC is forecasting Russia's production for the 2021-22 season at just under 95 million metric tons (mmt). This total comprises 70.2 mmt of winter wheat, and 24.8 mmt of the spring crop. Compared with a relatively poor harvest last year, the total figure for this season is 25% higher. It is also 19% above the five-year average of 79.7 mmt.
With the area sown to wheat up just 4% from the recent average, yields came in at 3.27 metric tons per hectare (mt/ha), or 21% higher than in past years.
At almost 21.7 mmt, Russian barley production is forecast 9% above the five-year average, according to the JRC report.
National average barley yield forecast at 2.71 mt/ha would be 14% than the recent mean. Acreage for this crop was down by 4%.
For grain corn, JRC is forecasting harvests of more than 16.4 mmt for this season. This would represent a 17% increase over the five-year average of 14 mmt, as well as a volume of 6% more than last year.
Compared with the previous season, the area of corn harvested increased by 1%, while the average yield of 5.48mt/ha was up by 5%.
Western Russia's corn harvest suffered more than other grains from adverse weather in the main growing regions. In the Southern and North Caucasus federal districts, a rain deficit persisted. What followed was a period of unusually high temperatures during the month of August.
In the country's more easterly federal districts in Asia, the JRC report found mixed effects of the season's weather conditions on grain harvests. In the Urals, grain yields look to be higher than earlier forecasts. Meanwhile, winter crop harvests in Siberia are expected to be somewhat below previous expectations.
Recent developments in European feed grain markets
High prices for feed ingredients and energy are among the consequences being felt by the European feed industry after Russia's invasion of Ukraine this year.
For Eastern European farmers and feed companies, there appears to be no end in sight to the recent chaos in the grain market.