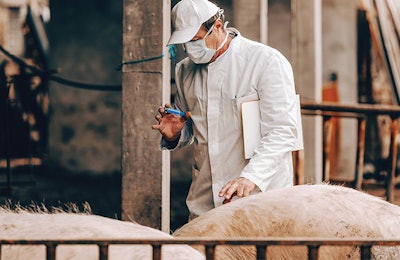 USDA, Vietnam officials report pig deaths resulted from 'vaccination processes that were out of compliance' with guidelines
Officials in Vietnam have determined the cause of death for pigs that died after receiving a new vaccine for African swine fever (ASF), according to the U.S. Department of Agriculture (USDA).
Reuters reported on August 24 that "dozens" of approximately 600 inoculated pigs in Vietnam died after receiving the NAVET-ASFVAC vaccine, which is distributed in the country by NAVETCO National Veterinary Joint Stock Co. and was developed by USDA's Agricultural Research Service (ARS). NAVETCO has partnered with ARS on ASF vaccine research and development since 2020.
A spokesperson for ARS said in an email that individuals with the Vietnamese Ministry of Agriculture and Rural Development (MARD) directly informed ARS of results for the investigation regarding the recent pig deaths in Binh Dinh, Phu Yen and Quang Ngai provinces.
"According to information received from MARD, it was determined that the deaths were caused by vaccination processes that were out of compliance with ministry guidelines," the ARS spokesperson said. "The information that USDA-ARS received also reflected that the deaths of post-vaccination pigs could be attributed to the vaccine being administered to pigs at incorrect ages and incorrect dosages, not following the supplier directions, the directions of MARD, nor the guidance of Vietnam's Department of Animal Health."
Vietnam temporarily suspended the use of the vaccine after the pig deaths were reported. After gathering information on the pig deaths, ARS said it could not confirm whether the vaccine in question was developed by ARS.
ARS added that test results from samples collected from pigs vaccinated in the province without supervision by veterinary agencies showed that some of the pigs also tested positive for a field strain of the ASF virus, porcine reproductive and respiratory syndrome virus, porcine circovirus type 2, and other pathogens, including Streptococcuss spp, Staphylococcus and E. coli.
In a September 21 update on the situation on the website for the American Association of Swine Veterinarians, Paul Sundberg, executive director of the Swine Health Information Center, said stricter control of the vaccination process would be enacted in the future, with plans to deploy up to 600,000 additional doses. Supervision to evaluate effectiveness of the vaccine will continue, he added.
"It's pretty clear that the Vietnam vaccine distributors want to have more control over vaccine distribution and use, including the ages, administration, conditions of vaccination," Sundberg told Feed Strategy.
Vietnamese officials said 20 localities have now deployed vaccinations with a total of more than 21,000 doses following all appropriate guidelines, Sundberg reported. A separate source from the USDA told Feed Strategy that more than 300,000 doses of the vaccine have been administered to pigs in Vietnam.
"The outlook for the vaccine is still dependent on its widespread, conditional, field-use results," he told Feed Strategy. "The prototype vaccine was determined to be safe and effective under the conditions that it was tested. When those tests and use become more field-extensive, we'll continue to learn more."