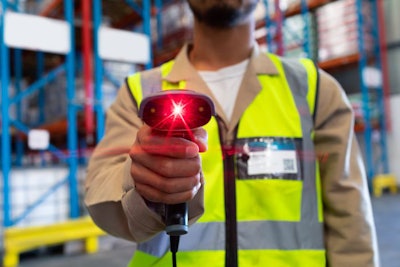 How tying facility automation with data-packed barcodes and, someday, blockchain will revolutionize mill inventory tracking
Inventory and warehouse management for feed mills is usually labor intensive and riddled with opportunities for human error. But it doesn't have to be, thanks to advances in electronic inventory monitoring, barcodes and scanners.
Integrating such tools with facility automation gives feed manufacturers complete control over the physical and electronic movement and tracking of materials, while communicating with an ERP system to track raw, work in process (WIP), and finished good dollar amounts.
The interconnected warehouse model is becoming adopted industrywide, and its evolution shows no signs of stopping. Learn how these five factors will forever change the way feed mill inventory will be tracked and managed in the years ahead.
Automated ingredient inventory tracking
Automated inventory traceability is a relatively new offering for the feed manufacturing industry. Early automation software concentrated on eliminating manual controls from weighing, mixing and routing; traceability was not the intent.
Automation systems today encompass the facility end to end, providing traceability with reporting and documentation from the time incoming raw materials enter a feed mill's receiving, to WIP inventory, to finished goods, and even post shipment from the feed mill.
"Facility automation provides the ability to see in near real time what is on hand – not only what is on the shelf in the warehouse and ingredient bins, but also WIP – in the buckets or bins before it goes into a finished product," said Jeff Martin, business development, Repete Corp. "This level inventory management enables operators to know ahead of time that ingredients are running low, or that the set of runs on the schedule cannot be covered by the amount of product on hand."
Greater inventory insights provides the ability to better manage supply peaks and valleys and fulfill production targets.
Information-dense barcodes
Automated traceability is ushering in a new era of increased data gathering with information-dense codes that contain more data than traditional barcodes. Utilizing high-speed scanners in conjunction with multiple 2D barcodes or QR codes allows feed mills to trace materials at the throughput rate of a modern feed mill while reducing clerical errors.
"This enables us to track additional information like expiration codes," said Pete Ensch, CEO, WEM Automation. "It also can provide the next level track and trace by adding an individual, unique identifier to a specific item. For example, we can now track a specific bag, such as bag No. 86 out of 90 bags. This level of granularity can be used to build more intelligence into the system and alert operators to locate a specific bag from the previous lot because it expires sooner."
Electronic ingredient tracking with data-rich codes can also contribute to better process monitoring and alarming. For example, it can prevent human error when different ingredient bags appear to be the same to the naked eye.
"Operators may mistake one green bag for another, but the barcode system will catch it and prevent a mistake from happening," Ensch said.
Total manufacturing system integration
The most cutting-edge manufacturing companies today employ an MES – or manufacturing execution system – to facilitate inventory track and tracing.
"Every industry has a slightly different definition of MES, but they are all software programs that monitor, control and track the various processes in your plant that convert raw materials into finished goods, and then create an 'as-made,' record of the product going out the door," Ensch said.
These processes include the manufacturing process itself, as well as quality, resource scheduling (equipment and people), inventory control (on-hand, allocations and usages), and traceability. The MES ties all data together for a given batch and production run.
Total manufacturing system integration may also involve tying multiple feed mill locations' data together.
"For lot tracking and inventory functions, CNX is designed to manage not only a single facility, but also as a many-to-one solution with central management," explained Repete's Martin. "It can synchronize records across as many as 50 facilities and, with reconciliation features, it tracks every received lot, used bag, or even spilled bucket through sites across the globe."
Increasing regulatory and consumer demand for traceability
Requirements for increased traceability are projected to expand from a government regulations standpoint and from a consumer standpoint. Eventually, greater upstream traceability will be necessary to tie the agronomy portion to the feed mill for unconventional products, such as non-GMO and organic.
"Today's consumers, and certainly millennials and Gen Zs, want to know where their food comes from, and automating the farm to table is the only way to satisfy this expectation. It can be done now, but not easily or smoothly," Ensch said.
Speed can be a feed manufacturer's greatest advantage when tracing a contamination issue, according to Martin.
"Time is critical and cannot be regained once elapsed," he said. "Being able to determine accurately where action needs to be taken is crucial, but doing it immediately can save lives. Done properly with automation, users can click a mouse to get full lot tracking and traceability reporting."
Additionally, automation provides the ability to perform mock recalls, so companies can train employees on how to identify every order that was produced from a specific ingredient.
Blockchain technology
Martin described blockchain technology as "traceability on steroids" because the data is unalterable once established.
Blockchain technology is well suited to handle the volume and complexity of the data involved and may one day be part of the solution to fully realizing farm-to-table traceability. But it comes at a cost – to consumers and manufacturers.
"To date, most blockchain efforts have been focused on the supply chain leading into the mill (agricultural tracing), and downstream from the mill (finished product delivery)," Martin said. "All the data needed from the feed production environment for traceability is already in place and can be incorporated when use cases are ready."
However, Ensch explained blockchain's biggest challenge is the significant infrastructure cost to develop and maintain a blockchain system for tying all the data together in one standard format.
"Standardizing on data formats across the different parts of the supply chain is one aspect holding blockchain back from widespread adaptation," Ensch said. "The agronomy sector has done a good job of this, but then the standards in data interfacing fall apart at different handshakes throughout the rest of the food chain."
Inventory tracking and traceability tools are advancing rapidly. Increased use of asset trackers like RFID and information-dense barcodes, as well as upstream inventory monitoring like on-farm bin level sensors, will take the feed industry to the next level of total system integration and real-time data analytics.
---
Announcing the Feed Mill of the Future digital supplement

WATT's feed brands Feed Strategy and Feed & Grain magazines join forces to launch the monthly Feed Mill of the Future digital supplement. Each edition aims to provide animal feed industry stakeholders with forward-looking content, market insights and a spotlight on the leading-edge technologies shaping the global feed industry of tomorrow.

Subscribe today! https://bit.ly/3dWzow7