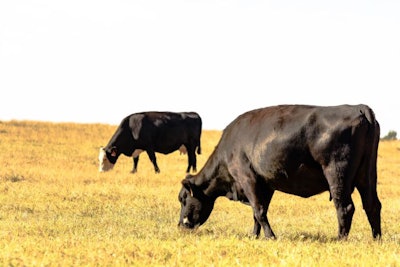 Common practice of feeding cattle protein supplements could help reduce methane emissions
Common protein supplements and good husbandry could be an effective means of reducing emissions from many cattle operations, according to new analysis by a former U.S. Department of Agriculture (USDA) researcher.
N. Andy Cole, a retired research animal nutritionist from USDA's Agricultural Research Service, noticed a trend while going over some data from studies in which he participated before he retired five years ago: across multiple experiments, when cattle are fed common protein supplements, they produce less methane.
Cole has authored three papers on his observations. In his most recent paper, published last month in the Journal of Animal Science, Cole found that steers fed low-quality forage produced about 10% less methane when they were provided supplemental protein in the form of either dried distillers grains with solubles (DDGS), or cottonseed meal.
Compared with the cottonseed meal, the DDGS resulted in a slightly greater reduction in emissions, which isn't too surprising, Cole said. It's already well documented that when cattle are fed higher levels of fat, they produce fewer methane emissions. The DDGS in the study contained 11% fat, while the cottonseed was in the range of 4% Cole said.
But the association appears to hold true for other proteins as well. In a previous study, Cole's team achieved a 20-25% methane reduction with protein supplementation. A third study, which focused on energy supplements rather than protein, also saw reduced reduced emissions.
While the study did not shed light on why protein supplements yield these results, Cole said he believes it is related to improved fiber digestion.
"In these cases, we're taking a forage that's deficient in protein, and essentially balancing the diet so the animal has adequate protein … so it can digest forage more efficiently," he said. "When we supplement animals to try to balance their diet to make them more efficient, we're also having a positive effect from an environmental standpoint."
Protein supplements, Cole said, are commonly fed when cattle must subsist on poor-quality forage, because the supplement will spur additional feed intake. That increased intake of feed resulted in a temporary increase in methane production, Cole said. However, the supplements decreased the overall lifetime emissions of cattle because the amount of methane produced per feed consumed declined.
Cole said he hoped the published data would help regulators design policy that more fully reflects how husbandry and feed selection affects emissions from animal production.
"Hopefully this is some data that could help producers calculate their carbon footprint and how their practices manage their carbon footprint," he said. "If we ever get a viable carbon market in the U.S., this is something that may come into play."