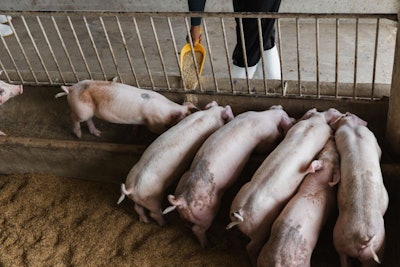 8 Asian states have reported African swine fever (ASF) in pigs so far this year, with confirmation of the infection in Bhutan near to the border with India.
Early in May, 30 pigs were found dead in Phuentshogling in Bhutan, according to a recent official report to the World Organisation for Animal Health (OIE). They subsequently tested positive for the African swine fever (ASF) virus. The town is in the Chhukha district, which is on the border with India.
As there are no farms in the town, it is assumed that the pigs were scavenging strays, reports the nation's animal health agency. The animals are thought to have originated in Jaigoan, a town on the Indian side of the border in West Bengal.
In response to news of the ASF-positive cases over the frontier, authorities in West Bengal raised the alert level for signs of ASF, reports Telegraph of India. Movement restrictions were imposed on live pigs and pork products, and farms were disinfected. Concerns were raised about the threat of the disease to – and the risk of spread of the disease from — the wild boar population in a nearby park and nature reserve.
Bhutan is the eighth Asian state to have reported cases of ASF so far this year. According to local media in India, there have been recent outbreaks in the states of Mizoram and Meghalaya.
Vietnam suspends live imports from Thailand
After the ASF virus was detected in a batch of pigs from Thailand last week, Vietnam has temporarily suspended imports of live animals from the country, reports Vietnam Net. This will come into effect at the end of June. According to this source, the affected group comprised 980 pigs, imported into Vietnam in mid-May.
To supply the demand for pig meat, Vietnam imported almost 448,000 live pigs from Thailand between June and December 2020.
As recently as the end of April, Thailand's Department of Livestock Development stated that the country remains ASF-free. Preventative measures were put in place as soon as ASF was detected in China in August 2018. These have been effectively maintained since that time, said the department's director-general.
Allegations of Thai pigs infected with ASF, particularly in the region bordering Cambodia, are false, he said. He added that infected animals were illegally traded from elsewhere, possibly with a view to lowering prices.
Cambodia increases border controls
In response to reports of ASF in Vietnam, Cambodia's authorities have increased controls of pigs originating in Vietnam, according to Khmer Times.
Inspections of live animals, pig meat and pork products in the border area are intensified to identify illegal trade. Quarantine periods will be lengthened. Businesses and traders in pigs and their meat in the area are urged to buy through official channels, and ensure hygiene measures are adhered to, and entry permits to quarantine are in order.
This year, Cambodia improved testing of pigs on its borders over fears of ASF. This aimed to support the quarantining of animals before they were transported on to the capital city and other parts of Cambodia.
Mixed progress on ASF reported in the Philippines
First cases of ASF have been recorded in Eastern Samar, reports Philippine News Agency (PNA). This province is in the Eastern Visayas region. Pigs in three communities tested positive for the ASF virus on May 20. Culling of pigs was already underway in one village, and others were identified for further culls to halt the spread of infection.
Previous outbreaks had been confirmed in the provinces of Leyte, North Samar and Samar in the same region.
From Bicol — the region lies to the northwest of Eastern Visayas — has come more encouraging news. PNA reports that ASF cases are in decline there. Just five animals have tested positive for the disease in Bicol over the past two months. In response, plans are being developed by the region's Department of Agriculture to implement recovery of the pig sector, including restocking herds. Since ASF was first detected in Bicol in February 2020, outbreaks occurred in all six provinces.
ASF elsewhere in Asia: China, South Korea, Indonesia
Over the past week, China's animal health agency has registered with the OIE an outbreak of ASF in Xinjiang Uighur autonomous region in the west of the country. Of the 599 pigs at a farm in a village in the Yining county, six died and in early April, and the others were destroyed.
According to the official report, presence was confirmed of the highly virulent genotype II virus. The same type was detected at two previous outbreaks in this region since February. The second of these was at another farm in Dadamutu township in Yining county in late March.
The three outbreaks have involved a total of 1,212 pigs, 304 of which died, and 908 were culled to halt the further spread of infection.
In a recent update on the ASF situation in Asia, the United Nations' Food and Agriculture Organization (FAO) has amended its figure for the number of ASF-infected wild boar in South Korea. As of May 25, this now stands at 1,421 animals in several counties in Gyeonggi and Gangwon. Located in the north of the country, the provinces border North Korea. ASF has also affected 17 South Korea pig farms since the virus first arrived in the country in September 2019.
In Indonesia, local media are reporting the deaths of "many pigs" since April in the Manokwari Regency of West Papua province, according to the FAO. Cause of death of these animals in the east of the country is unknown. Meanwhile, ASF has been detected in some of the wild boar that have died since February in several districts of South Sumatra province in western Indonesia.
5 new ASF outbreaks registered in South Africa
The ongoing ASF situation in South Africa continues as the disease spreads. Latest official reports to the OIE cover five new outbreaks — all in different provinces of the country — that started in the period May 8-24.
First to be confirmed were seven cases in a backyard herd of 250 pigs in the Cape Town city area of Western Cape. These bring to 1,373 the number of pigs affected by 20 confirmed outbreaks in the Western Cape ASF outbreak "wave." This began in February, and came soon after an earlier series of outbreaks.
Further north and east in the country, another wave is ongoing. It started three years ago in Mpumalanga and has since spread to other provinces. Since then, 57 outbreaks have been confirmed, directly impacting almost 39,000 pigs.
Latest outbreaks registered in this series were at a small farm in Mpumalanga, and in one backyard herd in each of Free State, Gauteng and North West.
ASF situation elsewhere in Africa
In May, ASF outbreaks were reported in two African states, as well as South Africa. The disease returned to Côte d'Ivoire (Ivory Coast) after an absence of almost one year, and mortality of more than 300 pigs in Nigeria was blamed on ASF.
In a positive development, Punch of Nigeria reported recently that pig farming is a profitable business in the West African state.
According to the same source, the nation's largest pig farm is producing 5,000 fattened pigs each day. The premises is a cooperative, Oke-Aro, in Ogun state, which was devastated by ASF one year ago. Reported to be in ruins after the outbreak, production seems to have resumed.
View our continuing coverage of the global African swine fever situation.