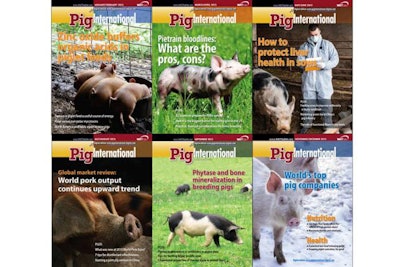 As 2015 is coming to an end, I am reviewing my digital stats, trying to identify trends to make Pig International a better magazine for 2016. We continue to see an increase in our readership, which we believe is a direct response to focusing Pig International to what our readers told us they like most: health and nutrition topics. We also see high interest in global affairs, such as the porcine epidemic diarrhea (PED) virus threat, top producers and processors, and overall pig production numbers. We will continue to report on these, plus the usual know-how articles for which we are known.
Looking closer at each article, I have identified six (one from each of our six published issues in 2015) with the greatest impact among our readers. I think they deserve a second look as they contain information that remains relevant. Click on each title to get at each article at the digital edition of Pig International. And, if you have not renewed your subscription for 2016, now is as good an opportunity as any to do so — and my thanks for that!
I would like to grasp this unique opportunity to thank all contributors who wrote for Pig International in 2015. And, before we step into 2016, I would like to express my thanks to all our readers for keeping Pig International at the top of the charts for one more year!