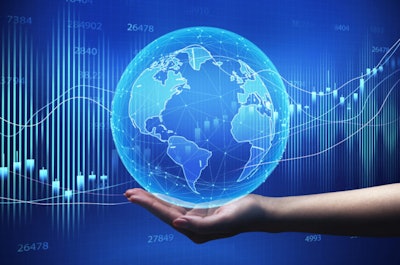 New report from Rabobank says volatility will affect global pork markets in 2023
Volatility surrounding feed grain prices, animal disease and China's economy will weigh on global pork markets throughout 2023, according to a new report from Rabobank.
In its Global Pork Quarterly report from January, Rabobank said feed grain prices have eased from their peak in the second quarter of 2022, but the U.S. could see price fluctuations throughout the near term. Energy and freight costs are expected to come down while labor costs will rise. Production costs are expected to soften slightly.
Disease will affect the global pork markets, with African swine fever (ASF), porcine reproductive and respiratory syndrome (PRRS) and porcine epidemic diarrhea (PED) virus all concerns. ASF continues to spread in Asia and Europe, among other regions, and remains a wild card that could factor into supply chains and trade. PRRS was an issue in the U.S. and Europe in 2022 but has dropped off. PED virus remains a potential risk this year. Classical swine fever (CSF) affected a large farm in Japan in July 2022.
Because of these disease risks, biosecurity is a priority for the global pork industry, and biosecurity measures have improved worldwide, Rabobank noted.
China 'a big question mark'
Rabobank is expecting volatility in China's hog market through the first quarter of 2023, due to a short-term supply surge and weak demand stemming from high COVID infection rates after loosening of the country's "zero-COVID" policy.
"While we hold a bearish view about short-term performance, we are bullish about demand rebound once the COVID wave settles at a later stage and business is 'back to normal,'" the report said. "There might be pent-up demand via foodservice channels, but there is also a big question mark as to how strong this demand surge could be, given the macroeconomic challenges."
China's pork imports in 2022 declined by 45%, but imports are expected to increase slightly in 2023.
China is the primary destination for Brazilian pork exports, accounting for approximately 42% of total volume.
"As a result, Rabobank expects a 2% (year-over-year) lift in export volumes this year, although the situation in China regarding the control of COVID-19 could yet impact the import potential," the report said.
Pork production growth in Vietnam, the Philippines
Vietnam and the Philippines will continue to see growth in their pork production in 2023, despite challenges including inflation, ASF and trade volatility, Rabobank said.
Vietnam's economy – and with it, its demand for pork – have grown. However, animal disease outbreaks have affected profitability of the pork supply chain. Small farmers are exiting the market and consolidation continues. Production was up 11.4% year over year in 2022, and growth is likely to continue in 2023. As domestic supply has grown, imports have fallen rapidly.
In the Philippines, production has also increased steadily, but so have pork imports, driven by strong local prices and the government's extension of tariff reductions. Imports are expected to slow in 2023 as local production increases and prices soften.