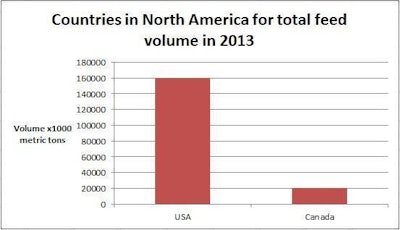 A marked improvement in production economics for the American poultry sector and weather-related effects on the availability of pasture for grazing were among influences increasing the demand for feeds in the United States in 2013, as grain prices decreased.
But, while the pork business stabilized, and the broiler, layer and dairy markets all showed a small annual increase, beef dropped sharply and is expected to continue its fall in 2014. A report from the U.S. Department of Agriculture (USDA) has said that the total cattle inventory in the United States at the beginning of 2014 was the smallest since 1951; the calf crop was the smallest since 1949; and the number of calved cows and heifers the lowest since 1941.
Compound feed production rises
Officers from the American Feed Industry Association (AFIA) have referred to 165 million metric tons of U.S. feed produced in 2013. Our survey estimate for industrially manufactured compounds suggests nearly 160 million metric tons, or about 1.2 percent more than in 2012.
The indication for Canada is a 2.5 percent rise to 20.1 million metric tons in 2013 on the back of a recovering profitability in pork production and the year-by-year stability of the managed market for Canadian poultry products.
Canadian pork experiences minor set back
Pork producers in Canada experienced the lows and highs of the hog cycle all in one year, beginning with six months of struggles to break even and ending with reasonable margins. Their initial difficulty was due to low prices, when supplies of U.S. pork intended for export to China and Russia had to be diverted to North American consumption because the Chinese and Russian authorities banned imports of meat from U.S. pigs that had been fed the beta-agonist additive ractopamine.
PEDv threat on radar in 2014
Now, in both the USA and Canada, there is the worry of a pig inventory downturn following the entry of a destructive Porcine Epidemic Diarrhea virus (PEDv) into the pork farms of both countries. A further reduction in potential customers for the 500 commercial manufacturers of compound feeds in Canada is another concern, with new figures showing that the number of Canadian pork producers has fallen by 50 percent in 10 years.