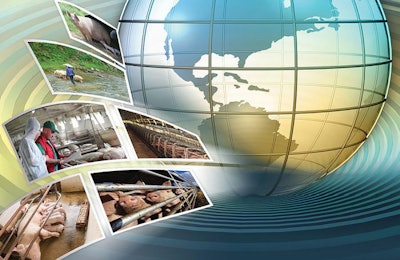 While global pork trade in the first half of 2022 was slow, demand from China is expected to rise
Slightly lower feed input prices and strong consumer demand in North America are providing a bit of a break for pork producers, although volatility in grains and oilseeds remains, according to the latest Global Pork Quarterly report from Rabobank.
Global pork trade is expected to rise from the first half of 2022, mainly due to higher import demand from China. Global pork trade in the first half was also slow due to political, disease and shipping issues.
"China's imports have declined significantly, down 65% (year over year) in the first four months of 2022, on weak local prices and lockdown-induced logistics disruptions," the report said.
Rabobank expects China's pork market to enter an upward cycle in the second half of 2022 and that this year's pork production will be higher than in 2021. Supply constraints are expected to continue into 2023; that, along with demand recovery will support stronger hog prices in the second half.
"We believe there has been some shift from dining out to home consumption, as pork is the staple animal protein for Chinese consumers," the report said.
EU pork exports were down 30% year over year in the first quarter, with exports to China down 60%.
Brazil's exports to China were down in June 38% year to date, but it is still its biggest destination, with a 37% share of total shipments.
Sharp declines in U.S. pork sales to China were partially offset by stronger sales to Mexico.
Consumer demand is strong in North America and is improving in the EU, but some Asian countries expect weaker demand in the second half of this year due to inflation, slowing economy and COVID-19 risks. Rabobank said pork consumption in most regions "tends to be quite resilient."
In the U.S., "stronger sales at retail reflect a shift to more in-home eating a move away from foodservice, although sales to quick service restaurants remain steady," the report said.
In Mexico, a challenging operating environment is expected to limit herd growth in the second half of the year and potentially lead to industry consolidation. Although hog prices are above historical averages, they are unable to fully offset higher input costs.
In Canada, most producers are profitable despite higher feed costs and lower hog prices.
Pork production in Vietnam and the Philippines is expected to grow, despite inflation, African swine fever (ASF) and global trade volatility, Rabobank said.
As ASF spreads in Europe, trade restrictions have disrupted markets there, "creating an oversupply of certain products and pressuring prices," the report said. ASF continues to be a problem across Asia, driving up prices for poultry products while pork prices surge.
Porcine epidemic diarrhea (PED) virus is disrupting hog production in South Korea and is among the reasons that production is expected to be lower in the second half. Classical swine fever (CSF) and porcine reproductive and respiratory syndrome (PRRS) are affecting the pork market in Japan.