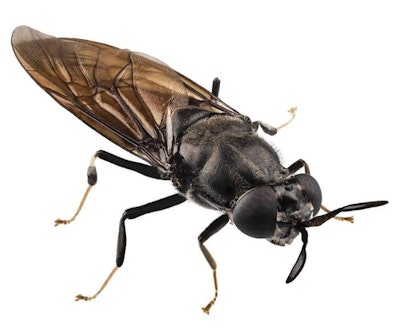 With the addition of three major funding partners, Enterra Feed Corp. is on track to complete construction of new facilities in Alberta (2019), British Columbia (2020) and the Midwestern U.S. (2021). Each plant will cost approximately $30 million to build, substantially increasing the company's production of its insect-based feed ingredients which are a sustainable substitute for traditional, resource-intensive ingredients for animal feed.
With this significant capital raise, Enterra CEO Geoff Gyles says the stage is set for future growth.
"We're very pleased that three prestigious groups have chosen to strategically partner with us, led by ADM Capital's Cibus Fund, a global equity portfolio specializing in the future of food. Also joining us are the German-based PHW Group, a global player in high-quality poultry products, and a prominent Canadian family-owned investment group. We are fortunate in that their participation will go beyond investment; all three partners will provide hands-on assistance in developing our global expansion plans. Additionally, we continue to be supported by our longstanding investors, Wheatsheaf Group and Avrio Capital, both of whom have participated in the current funding round."
Since 2007, Enterra has pioneered sustainable production of nutrition-rich insects for animal feed in North America. Using recycled pre-consumer food waste as feedstock, the company farms and harvests black soldier fly larvae, a beneficial insect that reproduces swiftly under controlled conditions and are processed into high value animal feed products. The larvae production process is completely sustainable, diverting food waste that would normally go to landfills, compost operations, or be incinerated.
Enterra Whole Dried Larvae can be fed directly to poultry and birds, or mixed with other ingredients to produce formulated feeds for fish, poultry and pets. Further processing of the larvae produces Enterra Meal (protein component) and Enterra Oil (fat component), both of which can also be blended into a variety of animal feeds.
Sales of Enterra products have tripled annually and continue to show high growth in aquaculture, poultry and pet food, as feed producers look for novel ingredients and sustainable replacements for resource-intensive inputs like fishmeal, soybean meal, coconut oil and palm kernel oil.
Enterra is the first company to receive regulatory approvals in the U.S. and Canada for its insect ingredients, following extensive trials and data collected in conjunction with research institutions across North America. Enterra products are also registered in the EU Trade Control and Expert System (TRACES), allowing export to all EU member countries for use in aquaculture, with approvals for poultry and pig feed expected.
Alastair Cooper, head of early stage investments for ADM Capital, says his company is excited about its partnership with Enterra.
"They are making enormous strides in sustainable food production. This is completely aligned with our Cibus Fund, which invests in rapidly growing food chain companies that employ smart, sustainable technologies to create high value. It is an ideal partnership, one we are enthusiastic to pursue and nurture. Enterra is about the future of food."