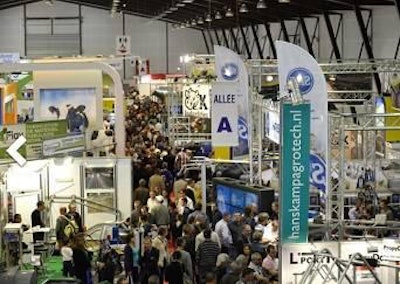 SPACE 2014, which will take place September 16-19 at the Rennes Airport Exhibition Centre in France, will focus on various sectors of animal production, attracting a variety of professionals, especially livestock farmers.
SPACE attracts visitors from many countries, making it a truly international experience. The event features innovation, discussion and debate on livestock production and related issues. Exhibitors will present their new products as part of INNOV'SPACE, where visitors can learn how to improve production techniques and implement cost-saving modernization tools.
There will be a Research and Development Village, with this year's theme, "work design." The aim is to encourage farmers to improve the balance between productivity, well-being and working conditions. The village will provide information and guidance on how this balance can be achieved. Sketches by actors will depict various situations involving human resources management.
The Breed Show will demonstrate advances in animal breeding by the introduction of genomics. There will be a showing and auction of various breeds of animals.
Express job interviews will be held September 16-19, featuring 20 employers, 85 vacancies and 200 interviews. Short, 15-minute interviews will be arranged between potential employers and job seekers.
SPACE will offer visits to local French farms and agribusiness units, which will be available to international visitors September 16-18. Tours will cover the dairy, sheep, poultry, pig, beef and feed industries with demonstrations in robotics, genomic selection and breeding. These visits are organized by the International Club, in collaboration with travel agency AGRI PASS and with support from French agriculture trade association, ADEPTA. For more information or to register for the farm tours, visit uk.space.fr/visitor/farm-visits.aspx.