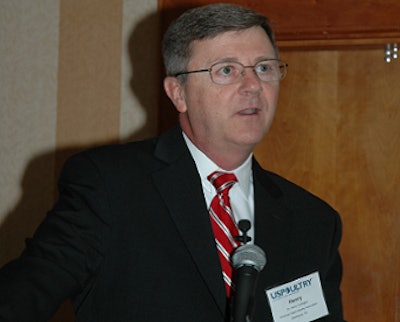 Whether or not poultry feed manufacturers are ready for the Food Safety Modernization Act (FSMA), the final rule is expected to be issued August 30, 2015. Feed manufacturers, however, are saying the rule in its present form is highly prescriptive and needs changing before final publication.
Speaking at the 2014 Poultry Processor Workshop, Dr. Henry Turlington of the American Feed Industry Association (AFIA) said his organization has offered current good manufacturing practices (CGMPs) that would allow for more innovation on the part of feed manufacturers and less prescriptive provisions.
The FSMA is self-billed as the most sweeping reform of food safety laws in more than 70 years. Through it, FDA aims to insure the U.S. food supply is safe by "shifting the focus from responding to contamination to preventing it."
The proposed FSMA will require new CGMPs covering the following:
• Hygienic personnel practices and training
• Facility operations, maintenance and sanitation
• Equipment and utensil design, use and maintenance
• Processes and controls
• Warehousing and distribution
Food safety plans with the following provisions would also be required:
• Hazard analysis
• Risk-based preventive controls
• Recall plan
• Monitoring
• Corrective actions
• Verification
• Record keeping
"There is too much 'human food' language in the FSMA" said Turlington, "and the language and approach are not appropriate for animal food."
He noted that Hazard Analysis Critical Control Point (HACCP) terms are used throughout the FSMA, yet HACCP is never mentioned in the proposed rule.
AFIA has also recommended that FDA remove all HACCP term references such as critical control points (CCPs). It similarly has asked FDA to change other human food terms such as "utensils" to "tools" and "sanitation" to "housekeeping" or "cleaning."
In addition to calling for less prescriptive CGMPs in the FSMA, there is subjective language in the proposed FSMA that needs clarification, according to AFIA.
While FDA has recommended compliance over years 1, 2 and 3, a more graduated approach to implementation has been suggested by AFIA – the adoption of CGMPs over years 1, 2 and 3 and hazard identification and preventative control rules over years 2, 3 and 4.
There are a total of 6,718 feed mills in the U.S., according to FDA. Those mills break out as 1,012 medicated mills, 5,215 non-medicated mills and 491 pet food mills.
In the proposed rule, FDA has identified gaps in the regulation of non-medicated animal food. The proposed rule would apply to facilities that manufacture, process, pack or hold animal food and would require them to register as a food facility under section 415 of the FD&C Act. This rule does not apply to farms that manufacture food for the own animals or other food facilities not required to register.
The Poultry Processor Workshop is sponsored by the U.S. Poultry & Egg Association.