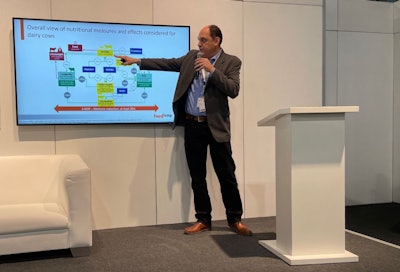 Instead of focusing on individual aspects of milk production, addressing the entire system makes more of a difference
More productive cows have a lower carbon footprint, and healthy cows produce milk more efficiently, and have better welfare and less antibiotic resistance.
That's according to Luis Tamassia, global innovation – ruminants lead for DSM Animal Nutrition and Health, who spoke November 16 as part of the Feed Strategy Seminar Series at EuroTier 2022 in Hannover, Germany.
"Addressing some key elements in milk production, that makes a big difference not only on milk production and performance, but also on the environment and carbon footprint," he said.
Instead of focusing on individual aspects of milk production, a "full ecosystem approach" leads to more sustainable dairy production.
"The cost of nutrition is huge in milk production," Tamassia said. "We cannot give the chance to waste any single nutrient offered to the cow. So, we must manage the diet, the formulation and use technologies to improve nutrient utilization because it costs a lot."
3 ways to improve performance and optimization
Tamassia said there are three key areas on which to focus in order to unlock the value of feed:
Nutrient utilization
Maximize starch digestion
Support fiber digestion
Optimize protein utilization
Healthy digestion
Protect feed and forage against mycotoxins
Support rumen function and microflora
Environment
Reduce nitrogen and methane emissions
Optimize phosphorus utilization
"So, putting it all together, we can improve performance, we can improve animal health, we can improve milk production, and we can improve sustainability," Tamassia said.
But, he pointed out, measuring each aspect of production is critical in making improvements.
"You cannot improve if you don't measure what you're addressing, your target," he said. "So we must measure, we must have a clear view of what's the situation at farm level nowadays, then we identify the point of improvement opportunities, then we take action on them."
Nutritional interventions to improve dairy carbon footprint
Tamassia highlighted six nutritional interventions that can be taken on a typical dairy farm to improve the farm's carbon footprint:
Vitamin E: Has anti-oxidative properties, supports tissue function and udder health
25(OH)D3 (25-hydroxycholecalciferol): Is an advanced source of Vitamin D with a higher potency than Vitamin D3. Supports tissue function, udder health and fertility, and supports calcium and phosphorus homeostasis upon lactation onset
Biotin: Supports hoof tissue synthesis and healthy hooves
Beta-carotene: Directly affects the ovary and follicles, improving pregnancy rates and cow longevity
Amylase: Enhances the digestion of starch and facilitates overall rumen digestion processes, improving fiber digestibility
3-NOP (3-nitrooxypropanol): A methane inhibitor that diminishes methane production in the rumen by 30% without affecting the ruminating function and overall animal metabolism and health
'Full ecosystem' approach
A highly productive dairy farm's environmental footprint is way below the average. But the environmental footprint is more than just carbon; it is the full footprint of food production.
This consists of animal feed, including crop and raw material impacts; live production, including animal health; outputs such as manure management; processing; and emissions and environmental footprint.