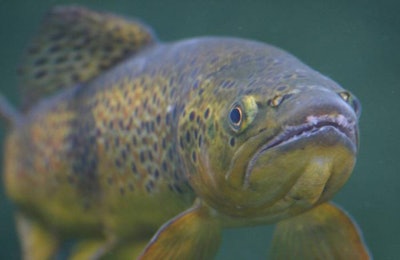 Trout fed DHA-rich algae instead of fish oil show impaired performance on multiple fronts
DHA-rich algae may contain all the nutrients trout require for optimal growth, but those benefits may not translate when algae are used to replace fish oil.
In a recent trial, a team of researchers from Cornell University, the U.S. Department of Agriculture and the U.S. Fish and Wildlife Service tested several diets containing varying combinations of algae to replace fish oil and synthetic astaxanthin. The test diets, according to Wendy Sealey, a researcher with the U.S. Fish and Wildlife Service's Bozeman Fish Technology Center, reflect the industry's need for an alternative to fish oil, as well as consumer demand for fish raised on more natural, plant-based diets.
The team selected two strains of algae for inclusion in the diets — choosing Haematococcus pluvialis for its high astaxanthin content, and Aurantiochytrium for its fatty acid profile. However, even though this combination of species contains the necessary nutrition, trout fed diets containing higher percentages of the algae showed decreased performance in several metrics, including growth performance, nutrient utilization and meat quality.
More research is needed to determine why the trout fed 100% algae instead of fish oil did not grow as large, according to Xingen Lei, a professor of nutrition at Cornell University. However, Sealey said it is possible that, although the algae included in the study contained the correct nutrition, that nutrition was not as readily available to the trout that ate it.
"Some microalgal species are known to have recalcitrant cell walls that can require additional processing in order to improve digestion and utilization by some fish species, Sealey wrote in an email.
This disadvantage could potentially be overcome by increasing the inclusion levels of microalgae to make up for decreased nutrient availability, Lei said.
"This study represents both the potential and challenges of the utilization of microalgae in aquafeed by demonstrating that microalgae can serve as sources of essential nutrients that can replace fish oil and synthetically derived astaxanthin," Sealey said. "However, those levels cannot be determined solely on the chemically analyzed nutrient values of the microalgae, because those levels are not always predictive of biologically available levels."