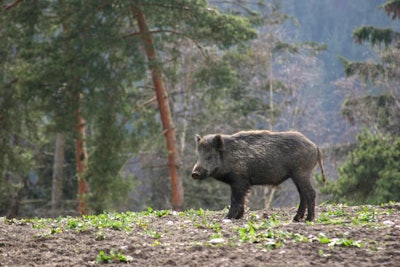 So far this year, 9 European countries have reported 1 or more cases of African swine fever in wild boar — almost 400 cases in total.
Already up to January 10, 43 outbreaks of African swine fever (ASF) in Europe's pig herds have been recorded by the European Commission (EC) through its Animal Disease Notification System. Of this total, Romania accounts for 42 outbreaks. The other cases were in Ukraine.
The only European state to have recorded new outbreaks with the World Organisation for Animal Health (OIE) during the past week was Romania. Between December 8 and January 4, there were 49 confirmed outbreaks among backyard herds. Also, one infected pig carcass was found dumped in a public area.
In addition, the ASF virus was detected at three farms — including one in the east of Romania with 30,400 pigs. This is one of the very few large commercial farms to have been hit by the disease in the country. The latest outbreaks resulted in the loss of almost 32,200 animals through mortality or culling.
In 2020, total farm outbreaks in Europe reached 1,240, according to the EC System.
Wild boar losses approach 400 in 2021
Since the start of this year, nine European states have registered one or more ASF outbreaks in wild boar to the EC. By January 10, the figure already stood at 398.
Of this total, 153 cases were registered in Hungary and 77 in Germany. Also confirming ASF cases among their respective wild boar populations were Romania (57), Slovakia (43), Poland (36), Bulgaria (17), Latvia (11), Estonia (3) and Lithuania (1).
During the whole of last year, 1,240 ASF outbreaks in domestic pigs were registered with the EC.
During the past week, Hungary's agriculture ministry has reported to the OIE 495 virus-positive wild boar. Located in the north and northeast of the country, these animals were reportedly found as clusters at various locations at the end of November or in early December.
In addition, there were 136 cases confirmed in Romania — mainly during the month of December — and 12 in Latvia so far in January.
ASF situation 'dynamic' in eastern Germany
In the past week, the German agriculture ministry has described the ASF situation in the states of Brandenburg and Saxony as "dynamic."
Over the festive period, volunteers, armed forces and local authority employees continued to search for sick and dead wild boar, reported the federal minister. She expressed strong criticism of vandals who have damaged the fences that help the authorities to control the spread of ASF.
In its latest update, Germany's national veterinary laboratory, the Friedrich-Loeffler Institute, lists 79 new outbreaks in wild boar over the period January 7-13. All of these cases were found in Brandenburg in one of three districts where multiple previous cases have been recorded (Märkisch-Oderland, Oder-Spree and Spree-Neisse). These bring to 498 the country's total number of ASF cases in wild boar registered with the Institute.
Germany's first cases of ASF in wild boar were recorded in the state of Brandenburg in September 2020, and in neighboring Saxony at the end of October.
No cases of ASF have been detected in domestic pigs in Germany.
View our continuing coverage of the global African swine fever situation.