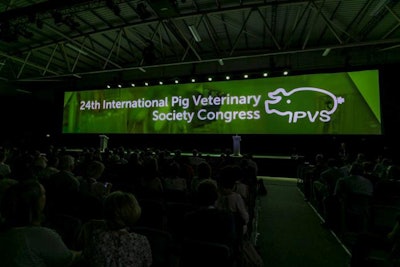 I'm back from Dublin, Ireland, and the International Pig Veterinary Society Congress (IPVS) 2016 conference, and it is a good time to reflect on what impressed me the most at this all-veterinarian event. Here, it is important to clarify that this is a scientific event with minimal industry present. In other words, it is not a fair or exhibition. Nevertheless, this did not prevent the organizers, sponsors and delegates from having a good time!
The animal drug industry is pre-occupied with two major pig diseases: porcine reproductive and respiratory syndrome (PRRS) and Cyclovirus. This is evidenced by the availability of vaccines from the top pharmaceutical companies, worldwide. In fact, the industry is consolidating to the point that certain diseases can only be treated with products from one or two suppliers. Accordingly, these giants are the major sponsors of IPVS and spend quite the budget in inviting and entertaining veterinarians at the event.
The academia is also worried about PRRS, but they have also spent considerable effort in addressing the porcine epidemic diarrhea (PED) virus threat, not only in the U.S. and Europe, but also in Asia. There is considerable concern the lethal strain of PED virus that affected the U.S. will spread to other countries, and scientists continue to be on the lookout for treatments and containment protocols.
Lastly, the veterinarians seem to be worried about other things, such as medication availability, business credit, continuing education and mostly about new legislation and how to cope with it. The issue of Salmonella remains high in their priorities — this can also be said about the academia — but not as an issue that is to be addressed through feed alone.
All in all, it was a very good scientific, albeit commercially driven, event that gave me the opportunity to find out what interests the veterinary community at large and also to make some new contacts. I am now looking forward to the next veterinary meeting of the European branch in Prague, next May.