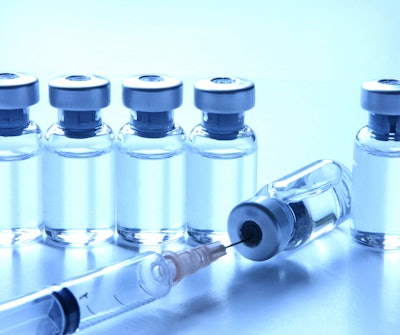 JurgaR | iStockPhoto.com
While the Philippines looks set to become one of the first recipients of vaccine against African swine fever (ASF) developed in Vietnam, there are concerns the country is not yet fully prepared to distribute the product.
After confirmation that Vietnam had become the first country in the world to authorize a vaccine to control ASF, demand from other countries for the product is expected to be strong.
This month, VietnamPlus reported that 2 million doses of the approved product are scheduled for delivery to the Philippines and Indonesia during the next three months.
According to the same source, 300,000 doses of vaccine have already been imported by the Philippines. In field trials there, the AVAC ASF LIVE vaccine from AVAC Vietnam JSC was found to be safe and effective. All vaccinated pigs developed an immune response to vaccination.
Concerns were raised recently in an opinion piece in the The Philippine Star that the country's authorities were not yet fully prepared for the forthcoming vaccine imports. It alleged that a black market for the vaccine could develop, as swine owners are desperate for a solution to continuing losses of pigs to ASF.
The author calls on three official bodies to collaborate with urgency on a plan to allow all owners access to the vaccine at a fair price.
ASF spikes in more regions of the Philippines
This month, a state of calamity was declared in the Dinagat Islands because of rising cases of ASF in swine. More than 160 pigs had been culled in the province, according to the Philippines News Agency (PNA) a week ago. Already, cases were confirmed in six communities. Part of the Caraga Region, this island province lies off the northeast coast of Mindanao island.
The next day, PNA reported that pigs had tested positive for the ASF virus in the Eastern Visayas region. For the province of Southern Leyte, the recent death of more than 30 pigs represents an apparent return of the disease after an extended absence.
In the Western Visayas province of Antique, swine mortalities have passed 1,100, and more than half of pig owners have been affected by ASF outbreaks, the same source reports. Some backyard owners in one badly affected town have volunteered to have their pigs culled to control the spread of infection. Furthermore, reports PNA, the virus was detected at the provincial swine production and artificial insemination center at the end of July.
For farmers in Negros Occidental in the same region, the rate of mortalities appears to be slowing down at last. Over the past four months, pig deaths are now approaching 18,000, with approximately 4,300 swine raisers affected, according to the same source.
At the start of August, a new ASF case was found in the Ilocos region on the island of Luzon. In Ilocos Norte province, the infected animal was traced back to a farm that had no disease certification. ASF outbreaks in 2020 caused severe economic damage to the provincial pig sector.
Latest area to be on alert for ASF is Cebu City in the Central Visayas region, reports PNA. Authorities there have banned the entry of all pigs and pork from the province of Bohol for a period of 60 days. This came after the discovery of the virus in pigs in the town of Pilar.
Thailand on alert for illegal pig meat imports
For reasons of national food security and ASF risk, Thailand's Department of Investigations is looking into illegal imports of pork.
According to a report in Bangkok Post at the end of July, several kilograms of unregistered products were found when police searched shipping containers in one province alone this year. As a result, several food importers and shipping companies are under investigation.
Two weeks previously, the same source reported that incoming air passengers were being warned not to bring into Thailand a particular type of Chinese sausage. Illegal pig meat shipments carry the risk of transmitting the ASF virus, it said. Around 100 of the Shuanghua brand sausages were seized from luggage from one incoming flight from China alone in July.
Further ASF outbreaks elsewhere in Asia
The number of ASF-infected wild boar in South Korea has reached 3,179, according to Pig & People (as of August 12). This is an increase of 19 from previous update dated July 23.
Since the country's first cases in 2019, infected wild boar have been found in four provinces.
Including the latest outbreak that started in mid-July, this source puts the total number of ASF outbreaks on farms in South Korea at 37. Directly impacted have been a total of 130,553 domestic swine.
For some pig farmers in Indonesia's North Sulawesi region, ASF is causing economic devastation, according to Antara News.
As well as pig mortalities from the virus, some owners are selling their animals for low prices to buyers before the disease strikes. Surveillance of herds in this area is being carried by local governments, and owners have increased the frequency of cleaning and disinfecting their premises.
According to the latest update on the ASF situation in Asia from the United Nations' Food and Agriculture Organization (FAO; dated July 20), ASF has directly affected almost 58,000 pigs in Indonesia. Of these, more than 35,000 were in the Riau Islands — lost in outbreaks this year. More pigs have been affected recently in East Nusa Tenggara.
Citing national government sources, FAO reported that there were 80% fewer ASF outbreaks in Vietnam during the first six months of this year than in the same period of 2022. However, there appears to be an ASF "hotspot" in Lang Son.
Outbreaks have occurred at almost 300 farms in 31 different communities, and more than 1,100 pigs have been culled. Located in Vietnam's Northeast region, Lang Son borders China's Guangxi province.
This month, Russia's veterinary authority notified the World Organisation for Animal Health (WOAH) about a further ASF outbreak in the Far Eastern federal district.
A third outbreak in Primorskiy krai since May involved a backyard herd of 80 pigs.
Two previous outbreaks in this area were on large commercial units with more than 103,000 domestic swine approximately 20 kilometers to the north.
View our continuing coverage of the global African swine fever situation.
Taiwan moves toward declaring freedom from CSF
Last month, Taiwan's Council of Agriculture brought to an end its policy of vaccination against classical swine fever (CSF).
This was an important milestone in achieving freedom from this disease, reported Taipei Times. While the disease is endemic in many parts of Asia, the last confirmed CSF case in Taiwan was in 2005.
In 2021, the Council introduced a three-year plan to eradicate CSF from the territory. From now on, hefty fines will be levied on anyone found to be administering or stockpiling CSF vaccine.
If there are no further cases, the Taiwanese authorities will apply to WOAH for official disease-free status in July 2024. This would make Taiwan the only pork producer in Asia to be free of CSF, ASF and foot-and-mouth disease (FMD), according to this source.
Like ASF, CSF (hog cholera) is a notifiable disease that affects members of the pig family, according to the WOAH. Both diseases can cause devastating losses in domestic and wild populations, while not affecting human health. CSF and ASF are caused by unrelated viruses.