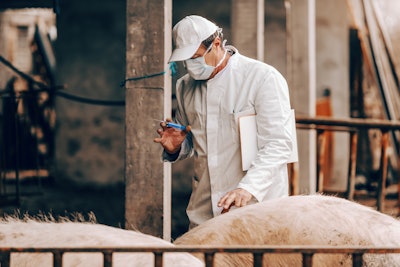 dusanpetkovic | iStock.com
In a world first, two vaccines against African swine fever (ASF) have been cleared for domestic use in pigs in Vietnam.
Until now, no vaccines against ASF had been approved for use in pigs.
However, this week, Reuters reported that the government of Vietnam has authorized the use of two locally produced vaccines for domestic commercial use.
Approval came after widespread testing in the country's swine herds. The government reported the vaccines to be 95% effective.
One month ago, it was announced that these two vaccines were awaiting approval by the Vietnamese authorities. The candidates — NAVET-ASFVAC and AVAC ASF LIVE — were jointly developed by U.S. scientists with two different commercial partners in Vietnam.
According to Reuters, this approval for use in Vietnam offers the prospect of future sales in other countries where ASF control has proved to be challenging.
ASF outbreak confirmed on South Korean farm
Last week, the agriculture ministry announced measures to control had been stepped up after confirmation of ASF at a pig farm in the north of the country, reported the Yonhap news agency. There were 6,880 pigs at the infected farm, which is located in Gyeonggi province, and approximately 85 kilometers north of Seoul.
Discovery of the outbreak was made as a result of pre-movement checks at a farm prior to slaughter, reported the agriculture ministry, MAFRA. A quarantine team was sent to the premises, and an epidemiological investigation was begun. There was a 48-hour standstill in the area for workers and vehicles at pig farms, slaughterhouses and feed mills.
In the subsequent days, this latest outbreak was officially registered by the South Korean veterinary body with the World Organisation for Animal Health (WOAH). According to this notification, there were 6,077 pigs at the outbreak farm.
Based on data from MAFRA, this was the first outbreak in the nation's domestic pigs since mid-April, and the ninth of 2023. It brings to 37 the total outbreaks in this population since 2019.
Number of ASF-infected wild boar in South Korea has reached 3,160, according to Pig & People (as of July 23). This is nine more cases than a previous update dated July 12.
Since the country's first cases in 2019, infected wild boar have been found in four provinces. For each of the first six months of this year, the numbers of infected wild boar are below the same months of 2022.
Further cases reported in the Philippines
Over the past two weeks, more cases of ASF have been reported in the Philippines.
Most of these have been in Antique, a province in the Western Visayas, according to the Philippines News Agency (PNA). Latest reports put cases of the disease in Antique in a total of 49 villages in the districts of Hamtic and San Jose de Buenavista. The same source reports that the disease outbreaks are causing pork shortages in Antique.
Owners in the province who have registered their animals with the Philippine Crop Insurance Corporation are being urged to make a claim for any animals lost to ASF. Compensation through the scheme is up to PHP200,000 (US$3,660) per household, based on the number of animals affected, reports PNA.
Over the past few months, mortalities in pigs from ASF have also been mounting in Negros Occidental, another province in the same region. While the rate of peak mortalities seems to have passed, these amount to more than 17,000 animals.
Meanwhile, in the Central Luzon province of Bataan, a state of calamity was declared in mid-July, according to PhilStar. A subsequent report put the number of mortalities in backyard pigs at 800.
ASF-related losses by the Philippines hog industry have already reached PHP200 billion. More than 50% of the national pig population has been affected, according to the chairman of the Pork Producers' Federation of the Philippines, reported the same source last week.
Most of the ongoing outbreaks are in Visayas and Mindanao, he said. He blamed the continued spread of the virus on owners of small pig herds who are selling infected animals. This, he said, was because there is no financial compensation for infected pigs, and so no incentive to report suspicious cases.
The Philippines's animal health agency has recently reported 241 further ASF outbreaks in pigs to WOAH. This covers cases confirmed over about two months last year on Mindanao and in the Visayas regions.
Since the first cases in this part of the country in January 2020, WOAH has been notified of 392 outbreaks directly impacting more than 71,000 domestic swine. A further 861 outbreaks involving 412,000 animals in Luzon have been registered separately with WOAH.
ASF developments elsewhere in Asia
Over the past week, the national veterinary agency has update WOAH about two ongoing ASF outbreak series in Malaysia.
In Eastern Malaysia, the situation is described as "stable." The disease is now considered to be present in the states of Sabah and Sarawak, according to the notification. Updates will be submitted every six months.
Based on WOAH reports received so far, 75 outbreaks have been confirmed in these states since February 2021. Impacted through mortality or culling have been 4,345 domestic swine, and 72 wild bearded pigs.
In Western Malaysia, two further outbreaks on farms have been registered with WOAH. Involving a total of 657 pigs, these affected two premises in Johor state in mid-April.
For this region, 101 ASF outbreaks have been reported to WOAH since October 2021. Affected have been 74,300 domestic swine and five bearded pigs.
ASF is reported to be control in the northeast Indian state of Meghalaya. This is according to NorthEastLive this month.
View our continuing coverage of the global African swine fever situation.
Another outbreak of classical swine fever in Japan
After a four-month hiatus, another outbreak of classical swine fever (CSF) has been reported in Japan.
This was confirmed a week ago on a farm in the area of Minamiawaji city, directly affecting 666 pigs. Of these, four died and the rest have been destroyed, according to the WOAH notification.
Located in the prefecture of Hyogo, the city is in the Kansai region in south-central Honshu.
Hyogo is one of the 39 prefectures where CSF vaccination of domestic swine is recommended. According to the report, testing has shown that the virus involved in this outbreak was a wild-type.
The latest outbreak brings the number of the nation's farms affected by CSF since 2018 to 87, and the total pigs involved to more than 77,000.
Japan's previous CSF outbreak in domestic pigs was in February.
Recently, the Japanese authorities registered with WOAH CSF cases in 373 wild boar found in the first three months of this year. Hyogo was among the 26 prefectures in six regions of the country where these cases were found.
Like ASF, CSF (hog cholera) is a notifiable disease that affects members of the pig family, according to the WOAH.
Both diseases can cause devastating losses in domestic and wild populations, while not affecting human health. CSF is most commonly transmitted to healthy animals by direct contact from those infected with the virus. It is known that the CSF virus can survive for months in refrigerated pork, and for years in frozen meat.
Despite the similar names, CSF and ASF are caused by unrelated viruses.