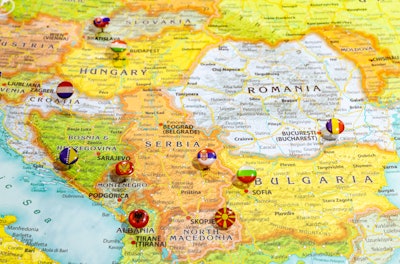 k0l0b0k | BigStock.com
Losses of domestic pigs and wild boar from African swine fever (ASF) continue to rise as the disease spreads across eastern Europe, particularly in the Balkan states.
A week ago, Sarajevo Times reported that more than 15,000 swine had been culled in the worst-hit district of Bosnia and Herzegovina.
A local disease crisis center was already warning a number of national authorities, including the agriculture ministry, that additional funds to fight ASF might not be sufficient.
According to official notifications, 248 ASF outbreaks were confirmed across the country up to July 21. Of these, four were in wild boar, based on notifications to the World Organisation for Animal Health (WOAH). Directly impacting almost 11,800 animals, the other outbreaks were in backyard herds of domestic pigs. First cases had been detected in a third municipality in the Republic of Srpska, Banja Luka.
Latest update from Sarajevo Times puts the number of ASF outbreaks across Bosnia and Herzegovina at 560, and the number of domestic pigs euthanized at almost 29,000.
In the adjacent state of Croatia, the veterinary authority has notified WOAH in the past 10 days about a further 135 ASF outbreaks among domestic pigs. With the latest outbreak confirmed on July 13, these affected 3,163 animals, all in small herds.
Since the nation's first cases were confirmed on June 23, 112 outbreaks in swine have been reported to WOAH by the Croatian agency, with 2,435 animals affected through mortality or culling. In addition, three wild boar have tested positive for the ASF virus over this period.
In contrast to its Balkan peninsula neighbors, the Republic of Serbia reported its first cases of ASF in January 2020.
So far, the animal health agency has registered a total of 1,220 outbreaks of the disease with WOAH. Up to July 9, affected have been 784 wild boar, and more than 26,000 domestic pigs. The majority of these outbreaks have occurred on the eastern side of the country, including recent cases in the districts of Sumadija and Moravica.
Last month, the first cases of ASF were also confirmed in the Republic of Kosovo in domestic and wild pigs.
Sharp jump in ASF outbreaks in Europe's domestic pigs
So far in 2023, the total number of confirmed ASF outbreaks on farms and in backyard herds at 1,456. Covering EU member states and immediate neighbors, this is according to the Animal Disease Information System of the European Commission (EC; as of August 4).
Over the past month, that represents an increase of more than 1,000. With Bulgaria, Estonia and Kosovo reporting their first ASF cases of 2023 in this population over this time, the number of states with confirmed outbreaks stands at 16.
For comparison, 12 European states registered a total of 537 outbreaks in this population with the EC in the whole of 2022. Of these, 329 occurred in Romania.
Registering the highest number of outbreaks in domestic pigs with the EC so far this year is Serbia, now with a total of 403 outbreaks. Next come Romania (395), Croatia (313), and Bosnia and Herzegovina (267).
Also confirming new cases in pigs since the EC's last update dated July 22 were Bulgaria, Estonia, Kosovo, Latvia, Moldova, Poland and Ukraine.
Registering the most new outbreaks with WOAH over the past 14 days has been Romania. Around 970 pigs were affected by the 196 most recently reported outbreaks.
Further outbreaks in central and eastern Europe
According to the Bulgarian food safety agency BFSA, the nation's most recent ASF outbreak was at a private farm with a single pig in the northwestern province of Montana. It was identified as a result of surveillance within a 10-kilometer radius of the previous outbreak.
Meanwhile, the Polish chief veterinary office has reported a further four outbreaks in domestic pigs. These bring the country's total outbreaks for the year to 20, directly impacting 7,538 pigs. Latest outbreaks were in herds each comprising between 13 and 69 animals. Three of the premises were in Lublin in the east of Poland, while the fourth was in the central province of Greater Poland.
At the end of last month, ASF returned to two western districts of Moldova in recent weeks.
Notifications to WOAH include one outbreak at a farm with almost 6,300 pigs in district of Ungheni, while the virus has also been detected in two smaller herds in Cahul in the southwest.
After a 16-month hiatus, ASF virus was detected again in north Ukrainian province of Chernihiv at the end of July. The veterinary authority has registered two further outbreak in the area with WOAH, affecting a farm with 105 pigs, and a single animal in a village herd.
The disease situation in Russia is not included in EC report series.
However, the Russian animal health agency has confirmed a further five ASF outbreaks with WOAH. All were in small backyard herds in in the Volga federal district — two in the oblast of Vladimir, and one each in the Mari El Republic and the oblasts of Kirov and Nizhny Novgorod.
ASF outbreaks in European wild boar pass 5,600
Already this year, the total number of ASF outbreaks across Europe has reached 5,672, according to EC's information system (up to August 4). This the latest total from 19 countries registering one or more outbreaks through this system since January 1.
Since the EC's previous update dated July 22, 14 states have reported new ASF cases in this population.
Registering the highest number of outbreaks in this category so far this year is Poland with a total of 2,037. Following are Germany (now with 779), Italy (749), Slovakia (495), Latvia (391) and Hungary (327).
In addition to these seven nations, also reporting new ASF outbreaks to the EC System since the previous update were Bosnia and Herzegovina, Croatia, the Czech Republic (Czechia), Estonia, Germany, Kosovo, Lithuania, North Macedonia, and Romania.
For comparison, there were a total of 7,442 outbreaks of ASF in wild boar across 15 European countries covered by the EC System in the whole of 2022.
In Germany, ASF virus was first detected in September 2020. Since then, virus-positive cases in the country's wild boar have reached 5,491, according to the national veterinary agency — the Friedrich-Loeffler Institute (as of August 4). This figure includes 40 cases confirmed over the previous 28 days.
Since the start of this month, all the country's new cases have been located in the eastern states of Brandenburg and Saxony. After a prolonged period without detection of the ASF virus, two infected wild boar have recently been found in the Oberspreewald-Lausitz district of Brandenburg.
In the Kirov region in Russia's Volga federal district, ASF has been detected for the first time ever, according to a recent WOAH notification. Three wild boar were found dead at one forest location at the end of July. After an eight-month hiatus, the virus was detected again in the Mari El Republic in the same federal district.
Although there is no immediate prospect of a similar move in Europe, the world's first vaccine to control ASF in swine has recently been authorized in Vietnam.
View our continuing coverage of the global African swine fever situation.