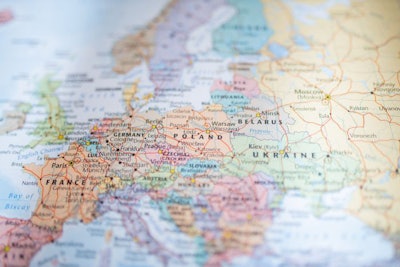 At a recent meeting of European Union animal health agencies, developments in the African swine fever situation were on the agenda.
At the end of September, representatives of the veterinary authorities in European Union (EU) states met in Prague to discuss several issues important to this sector, including African swine fever (ASF).
With cases of this disease confirmed in 14 European nations, the agriculture ministry of the Czech Republic (Czechia) reported that ASF is creating difficulties for pig producers and downstream industries. Among these problems are substantial costs and economic losses.
From those countries with recent or ongoing outbreaks of ASF, the national representative shared their experiences of control and eradication of the virus spread.
Improvements in the control of ASF in the EU were among a range of measures called for by European Commissioner Stella Kyriakides at a high-level meeting on the developments of the disease at last month. She stressed the value of sharing information from Belgium and the Czech Republic, where ASF has successfully been brought under control.
ASF restrictions eased early in another German state
Since October 8, pig farmers in the Uckermark district of Brandenburg state have been able to transport their animals without restrictions again.
An exclusion zone was set up in July after an ASF outbreak at a farm in this district, according to the federal agriculture ministry last week. No link could be established between the outbreak and infections in local wild boar. Initially, the transport ban was expected to last 12 months. However, the European Commission and EU member states agreed to a reduction in this period to three months, which ended last week.
Previously, restrictions relating to a previous outbreak in domestic swine were lifted in the state of Lower Saxony.
Uckermark was the last area of Germany with a transport ban related to domestic pigs, the ministry reported. Remaining in place in the country are only movement bans linked to ASF outbreaks in wild boar.
Schweine welcomed the easing of restrictions for pig farmers in Uckermark. However, the source stated that animal welfare and financial consequences continue to be endured by the sector in other zones of Brandenburg and Saxony.
In Germany, domestic pigs at seven locations have tested positive for the ASF virus since September 2020. These include four herds in Brandenburg, as well as in each of Mecklenburg-West Pomerania, Baden Wurttemberg and Lower Saxony.
Over the past two years, 4,327 wild boar have tested positive for the ASF virus (as of October 7), according to national veterinary agency, the Friedrich-Loeffler Institute. This was an increase of four animals since September 30.
Since the start of last month, new cases have been detected in wild boar in three of the nation's eastern states — Brandenburg, Saxony and Mecklenburg-West Pomerania — according to the same source.
ASF outbreak total among Europe's pigs creeps up
Since January 1, the number of confirmed ASF outbreaks in domestic pigs in Europe has reached 423.
This is according to the Animal Disease Information System of the European Commission (EC; as of October 1). So far this year, 12 European states have now officially registered one or more ASF outbreaks through this system.
For comparison, 11 European states registered a total of 1,874 ASF outbreaks with the EC over the whole of 2021.
Registering the most outbreaks in 2022 has been Romania with 239. This is followed by Serbia, whose total has reached 96 for the year so far.
Also confirming new outbreaks to the EC since September 25 were Italy, Moldova, North Macedonia and Serbia.
According to Ukraine's veterinary authority, the ASF situation in Sumy is now closed.
Based on information supplied to the World Organisation for Animal Health (WOAH), ASF cases were detected in three backyard herds in this northeastern province between June and August . No further outbreaks have been reported in Sumy since that time.
Since the start of October, Romania has confirmed a further nine ASF outbreaks to WOAH. All were in small backyards herds, and directly involved a total of just over 100 pigs.
Europe's wild boar total for year approaches 5,500
So far this year, 5,463 ASF outbreaks among wild boar have occurred in Europe, according to the EC notification system (as of October 1).
Registering one or more outbreaks in 2022 have been 14 of the continent's states.
Within this population, recording the most outbreaks with the EC in 2022 has been Poland (1,506), followed by Germany (1,235), Latvia (614), Hungary (477), Slovakia (457) and Romania (360).
Since the previous update from this source (dated September 25), Estonia, Lithuania and Serbia have also registered new cases in wild boar though this system.
For comparison, 12 countries confirmed with the EC one or more ASF cases among the wild population — a total of 12,150 outbreaks — during the whole of 2021.
Update on ASF situation in western Russia
While the EC System does not cover the disease situation in Russia, the national animal health agency notifies WOAH about developments in the disease in domestic pigs and wild boar.
Over the past week, the authority has declared previous ASF outbreak series closed in two regions of the Volga federal district (Orenburg and Penza), as well as in Volegda (Northwestern district), and Rostov (Southern district). In each of these regions, just one or two outbreaks were reported in backyard swine herds.
Just one new outbreak has been officially registered with WOAH over the past week by Russia. Affected was a group of 32 non-commercial pigs in Samara oblast in the Volga district. This brought the region's total outbreaks since January to three.
View our continuing coverage of the global African swine fever situation.