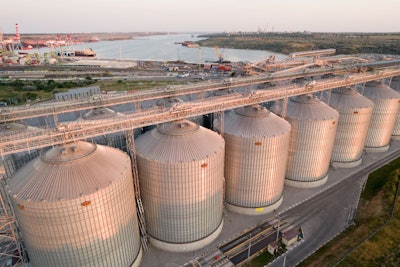 Russia's war in Ukraine has resulted in high feed and energy prices, raw materials shortages, and supply chain disruptions – all of which put pressure on the animal feed industry.
The war in Ukraine has set off a series of interconnected challenges for European feed producers, including raw materials shortages, high feed prices and energy costs, and supply chain disruptions. Additionally, animal disease — namely African swine fever (ASF) and avian influenza (AI) — and the drive to operate more sustainably and more innovatively have put pressure on producers.
Despite these challenges, Europe's largest animal feed companies have managed to weather the storm and continue operations.
The size and scope of these large companies may be credited with their resiliency: "With our widespread base of production sites that operate close to our customers, and our global supply chain coverage, we have been very successful in offering our customers continuity of supply despite these crises," said Richard Maatman, managing director for Europe, Central-Asia & Middle-East at Trouw Nutrition, the livestock feed business of Nutreco, Europe's second largest feed producer.
He said Nutreco's "position as a global player with significant scale" gives the company "a strength and robustness to handle difficulties and has enabled us to continue serving our customers through all the crises of recent years."
The European Feed Manufacturers' Federation (FEFAC) estimates compound feed production for 2022 will be down 2.92% from 2021, a reduction of 4.3 million tons. Reduction is seen mainly in pig and poultry feed; cattle feed production is more or less stable.
War's wide-ranging effects on the industry
Availability and high cost of raw materials have been exacerbated by the war in Ukraine, sources said.
"Economic uncertainties linked to the war in Ukraine is one of the major key drivers negatively impacting demand for compound feed in 2022," said FEFAC President Asbjørn Børsting. "The immediate loss of feed maize, sunflower meal and other feed materials from Ukraine and Russia could only be partially compensated by increased feed imports, mainly from the U.S. and Canada."
Detlef Kamp, head of animal nutrition at DLG Competence Center Agriculture, said the scarcity of certain ingredients will have an effect on other aspects of the animal feed industry as well.
"As resources become scarcer, this may also affect non-GMO demand as production efficiency becomes more important," he said. "Overall, there is a risk that the high costs for animal feed will further deteriorate the economy of processing. Added to this are the numerous developments relating to novel protein sources, which may represent new alternative animal feeds of the future."
Another issue, he added, is competition between the human food and animal feed industries for the same resources.
"The livestock industry is discussing the extent of food competition from feed. The trend goes towards seeing feed as byproducts from the production of food and bioenergy as well as biomass, such as grassland, that is not directly suitable for human consumption," he said.
While the war has affected availability of certain ingredients, it has also caused energy prices to spike, pressuring producers' bottom line.
"The inflationary environment we're in right now is impacting not only our company but our entire industry," Maatman said. "We're seeing a lot of volatility in the cost and availability of raw materials and, of course, energy costs are soaring. The war in Ukraine is creating a challenging economic outlook, not only in the EU market but across the globe. Prices for meat, milk and eggs have not kept up with increases in the costs of production, which is putting our customers' profitability further under pressure."
Børsting echoed this, adding that consumer price increases will eventually affect demand and, consequently, livestock and feed producers.
"Consumer prices of animal products have started to reflect these cost increases, which is necessary for the economic viability of the livestock value chain, however there will be a point that this will impact consumer demand as these price increases are expected to continue. Livestock farmers in several countries are under severe pressure in these economic challenging times, while in some countries also environmental-related pressures are added to the mix," he said.
The war in Ukraine has also affected the feed supply chain — which Børsting said was already under pressure — as well as cost and availability of micro- and macro ingredients.
"We have seen moments where even feed availability was an issue, in particular for a number of micro-ingredients such as vitamins or amino acids, for which EU is extremely dependent on the global market, and also organic feed materials," he said. "Key logistical challenges are persisting on how to move existing grain stocks out of Ukraine and will continue to impact market availability in the new marketing year."
Maatman said Trouw has been able to continue to operate despite these challenges, and is working with business partners to shore up its supply chain.
"Not only did the war in Ukraine cause a spike in costs and volatility of cost and availability of macro ingredients, it has also shown us how sensitive and interdependent food production supply chains are across the globe. Despite this, we have been able to keep everything business as usual for our customers, and our supply chain — and people — have shown great resilience. We continue to work with partners and build up business activities to help us create even more future-proof supply chains," he said.
Biosecurity tightened, but ASF and AI remain challenges
ASF and AI have affected animal agriculture across Europe for many years. ASF was first detected in domestic pigs in Germany in July 2021, leading to an import ban by China and several other Asian countries.
"The impact of African swine fever having been detected in Germany and the consequential import ban by China on pig meat from Germany is large, as these pigs were subsequently sold into Europe. This has led to oversupply of pig meat in Europe, and thus to large pressure on pig prices," said Caroline Vogelzang, director of investor relations at ForFarmers, Europe's largest feed producer.
Maatman said the effects of ASF on Europe's pig production may be uneven.
"Going forward, in certain countries we expect to see a sharp reduction in pork production, while other countries might still experience some growth," he said.
Vogelzang and Børsting said Europe has successfully stepped up biosecurity to protect against animal disease.
"Dealing with the outbreak of animal diseases is, unfortunately, part of working in the agricultural industry. Steps have been made over time, in Europe, to improve on the hygiene measures and steps to be taken to — as best we can — prevent and contain diseases," Vogelzang said.
Børsting added that AI has been much more of a challenge to contain than ASF.
"EU biosecurity measures were quite successful in containing the expansion of African swine fever, but avian influenza is much more difficult to control" he said. "In 2021-22 Europe has experienced the worst AI (outbreak) so far, weighing significantly on the feed demand from the poultry sector. Several countries — France, Hungary, Italy — were severely hit by AI when up to 20-30% of broiler production was lost."
Digitalization can help industry meet sustainability goals
The European agriculture sector is feeling pressure from consumers and political leaders to improve sustainability while feeding the world. This brings about the challenge and opportunity for companies to innovate and apply more digital solutions to production.
"There is increasing pressure from within society and political parties to accelerate greening of the food supply chain," said Dick Hordijk, CEO of Royal Agrifirm Group, Europe's fourth largest feed producer. "We also see the importance of this and based our vision and strategy for the coming years on a responsible food chain for future generations. But such a transition cannot be achieved overnight. Time and resources are needed to make this change possible."
Børsting said the EU aspires to be more self sufficient and rely less on food imports.
"This political ambition is even stronger in the context of sustainable energy production," he said. "An emerging challenge is the use of resources for biogas production that we would consider traditional feed ingredients, such as distiller grains, co-products from sugar production and former foodstuffs. From the use of co-products resulting from crop-based biofuels the feed sector has been able to benefit from protein-rich feed ingredients becoming available, but we will need to re-assess our relation to bioenergy production in light of competition for the same residual flows of biomass."
And responsible production of raw materials must be further scaled up, Hordijk said.
"For example, the market must be able to trust that their sustainably purchased soy is indeed deforestation-free. … In addition, we have climate targets for production sites. Agrifirm aims to work towards making energy consumption more sustainable, with climate-neutral production as the ultimate goal," he said.
Vogelzang said this goal has existed for some time but has become more important.
"The main challenge the livestock industry is facing, particularly in northwestern Europe, is how to continue to produce sufficient, high-quality animal protein to feed the growing global population and at the same time to reduce the impact on environment and climate, in countries which are densely populated," she said. "We see that some trends, which may have been visible earlier, have become more prominent, such as the pressure on the agricultural sector to feed the growing global population whilst at the same time to reduce the impact on environment and climate, and the accompanying political and public sentiment. In line herewith, we see the growing focus on and attention for innovation, including the use of digital solutions."
Digitalization will increasingly continue to be applied to animal agriculture to reach the industry's sustainability goals, Maatman said.
"The COVID-19 pandemic increased digitalization in every area of life — including in the animal nutrition business, where we are using digital tools to bring customer care to a new level," he said. "As our customers increasingly come from generations that grew up as digital natives, digitalization will continue to be a megatrend impacting Nutreco and our entire industry."
Maatman said Nutreco is "committed to working towards a circular approach to agriculture that retains as many nutrients as possible within the food chain. We do this with the help of digital precision farming tools, a resilient supply chain that ensures food can get where it needs to go and alternative ingredient sources that will let us produce food in incredibly sustainable ways."
Børsting said increased recognition of these issues will help the feed industry address them.
"On the positive side of things, awareness is rising as regards the potential of animal nutrition solutions to help farmers facing a number of challenges such as the reduction of the needs for antimicrobials, the improvement of animal welfare or nutrition/ingredients-based abatement techniques for livestock emissions such as enteric methane," he said. "A proposal for a revision of the legal framework for feed additives foreseen for the end of the year is expected to stimulate the emergence and market access to additives bringing sustainability benefits."