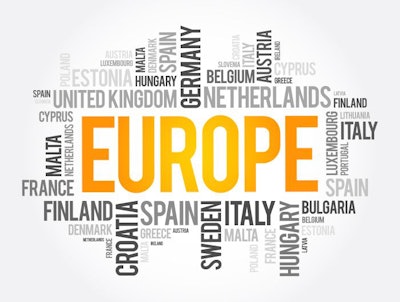 This week, pig owners in one state of Germany will again be able to move their animals, marking the end to a complete ban on movements imposed in part of Lower Saxony after an outbreak of African swine fever at the start of July.
After outbreak of African swine fever (ASF) was confirmed in the northeastern state of Lower Saxony at the start of July, a series of disease control measures were put in place by the authorities. This affected mainly the district of Emsland, where the affected farm and around 1,790 pigs there were located, and also neighboring Bentheim.
Despite the fact that no further virus-positive cases were detected in domestic pigs or wild animals in the meantime, the movement restrictions remain in place. The length of the movement ban is regulated by the European Commission (EC).
Finally, the end is now in sight for pig owners in these areas.
According to ISN-Schweine, pigs in Emsland and Bentheim can be moved and marketed freely from October 5. As many as 60,000 animals are estimated to be awaiting slaughter.
ISN's managing director, Dr. Torsten Staack, said disease control measures were put in place in Lower Saxony in a professional and effective manner as soon as the ASF outbreak was suspected. In his view, the length of the restriction period imposed by the EC was too long. This resulted in immense damage to the businesses of affected farmers, and put them in a crisis situation, he added.
Staack urged slaughterhouses to accept pigs from the restrictions zones as soon as possible from October 5, and not to impose penalties for overweight animals. He also expressed the opinion that the end of the ban should not be used as an excuse to depress pig market prices.
Furthermore, ISN has called for pig producers in the affected areas of Lower Saxony to receive financial compensation for their losses during the restriction period. These it estimates at more than EUR15 million (US$14.7 million).
In Germany, domestic pigs at seven locations have tested positive for the ASF virus since September 2020. These include four herds in Brandenburg, as well as in each of Mecklenburg-West Pomerania, Baden Wurttemberg and, most recently, Lower Saxony.
ASF outbreak total among Europe's pigs passes 400
Since January 1, the number of confirmed ASF outbreaks in domestic pigs in Europe has reached 407.
This is according to the Animal Disease Information System of the European Commission (EC; as of September 25). So far this year, 12 European states have now officially registered one or more ASF outbreaks through this system.
For comparison, 11 European states registered a total of 1,874 ASF outbreaks with the EC over the whole of 2021. The EC System does not cover the disease situation in Russia.
Registering the most outbreaks in 2022 has been Romania with 232. This is followed by Serbia, whose total has jumped by 43 since early July to stand at 92.
Also confirming new outbreaks to the EC since the end of August was Lithuania. Three recent outbreaks bring this nation's total for the year so far to 15.
Further cases in Romania, North Macedonia, Moldova
Officially reporting the highest number of new ASF outbreaks in domestic swine over the past three weeks is Romania.
According to notifications to World Organisation for Animal Health (WOAH), cases were confirmed in among 15 herds described as "backyards" in central, southern and eastern counties. While the largest herd to be affected comprised 97 pigs, the other cases were detected in very small backyard units.
Around one month ago, ASF virus was detected at two farms and one backyard in North Macedonia. These brought the total outbreaks in this Southeast European state since December 2021 to 24, based on WOAH reports. So far, all cases have been in four municipalities in the east of the country, including 11 in wild boar. More than 900 domestic pigs have also been directly impacted, including 143 in the latest outbreaks.
In Floresti in Moldova, pigs tested positive for the ASF virus at a third location, according to WOAH. At the end of September, the disease was detected in a backyard herd of seven pigs. There were two previous outbreaks in this northeastern district since mid-August, also in small non-commercial herds.
Meanwhile, Moldova's veterinary authority has reported to WOAH that the ASF situation is now closed in Singerei. This came after the central district's only outbreak so far in a backyard herd in early August.
Update on ASF situation in western Russia
So far this year, Russia's animal health agency has opened a total of 30 ASF "events" with the WOAH. Covering 26 oblasts, cases of the disease have been reported in five federal districts in the west of the country, affecting wild boar and/or domestic pigs.
Among farmed pigs, most of the outbreaks have occurred in backyard herds. However, ASF virus has been detected at six Russian farms so far this year. All confirmed since July, these affected units with between 136 and more than 22,800 pigs. Most recent outbreak at a commercial farm to be reported was at the end of August at a premises operated by one of the country's largest pig producers.
Over the past three weeks, just one further outbreak in swine has been officially registered in the country. Affected was a non-commercial herd of nine pigs located in Ivanovo oblast, which is in the Central federal district. Latest cases bring this region's total outbreaks since July to seven, affecting a total of 59 swine and nine wild boar.
Furthermore, the national veterinary authority has declared four disease series "closed" to WOAH. These cover the following regions: Republic of North Ossetia-Alania (North Caucasus federal district), Ulyanovsk (Volga), Astrakhan (Southern) and Smolensk (Central). In each, a small number of ASF cases were detected this year among the non-commercial pig sector or wild population.
Europe's wild boar total for year approaches 5,400
So far this year, 5,393 ASF outbreaks among wild boar have occurred in Europe, according to the EC notification system (as of September 25). Registering one or more outbreaks in 2022 have been 14 of the continent's states.
Within this population, recording the most outbreaks with the EC in 2022 has been Poland (1,468), followed by Germany (1,228), Latvia (599), Hungary (476), Slovakia (454) and Romania (360).
Since the previous update from this source (dated August 28), Bulgaria, Italy, Lithuania and Serbia have also registered new cases in wild boar though this system.
For comparison, 12 countries confirmed with the EC one or more ASF cases in wild boar — a total of 12,150 outbreaks — during the whole of 2021.
In Germany, ASF was first detected in September 2020. Since then, 4,323 wild boar have tested positive for the ASF virus (as of September 30), according to national veterinary agency, the Friedrich-Loeffler Institute. Since the start of September this year, new cases have been detected in wild boar in three of the nation's eastern states — Brandenburg, Saxony and Mecklenburg-West Pomerania.
Last week, the European Union health and food safety commissioner announced measures to increase ASF awareness, along with better management of the disease in wild boar, and the development of a vaccine.
In September, results of an investigation were published after elevated mortality among pigs during field trials in Vietnam of an ASF vaccine. It was revealed that vaccination protocols were not properly followed during these tests.
View our continuing coverage of the global African swine fever situation.