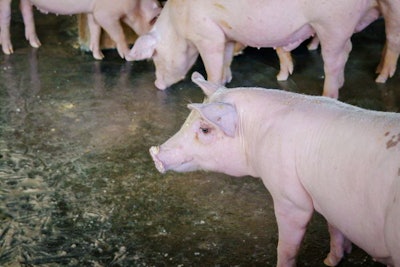 As South Korea experiences a sudden spike in farm outbreaks of African swine fever, classical swine fever has hit another commercial pig herd in Japan.
In South Korea, the number of confirmed African swine fever (ASF) outbreaks in domestic pigs stands at 27.
Between mid-August and the end of September, the ASF virus was detected at five of the nation's farms. This is according to the latest official notification to the World Organisation for Animal Health (WOAH).
As with the majority of previous cases, the latest premises to be affected were located in the northern provinces of Gyeonggi and Gangwon. Herd sizes ranged from 700 to more than 8,200 pigs — a total of approximately 24,400 animals.
Furthermore, 2,661 wild boar in South Korea have tested positive for the ASF virus since it was first detected in the country in September 2019, according to Pig People (as of September 30).
After the most recent farm outbreaks, the agriculture ministry announced a 48-hour standstill for movements to and from swine farms across wide areas of the affected provinces, as well as the Incheon city area.
Investigations set up to look into the disease spike point to the possible transmission of the virus by people between two of the infected premises in the same county of Gangwon. It is also suspected that secondary entrances to farms are used on occasion, and that these are not always set up with disinfectant dips.
Despite widespread farm testing in the past week, no further cases had been detected as of October 4. Nevertheless, the minister urged pig owners to comply fully with quarantine and biosecurity requirements.
ASF developments in Southeast Asia
ASF continues to afflict pigs widely in Vietnam.
As of September 5, outbreaks had been confirmed in 916 communities in 50 out of the nation's 63 provinces this year, according to the United Nations' Food and Agriculture Organization (FAO). Up to 24,000 pigs have been culled, and 87 outbreaks in 15 provinces are still ongoing.
In September, results of an investigation were published after elevated mortality among pigs during field trials in Vietnam of a potential ASF vaccine. It was revealed that vaccination protocols were not properly followed during these tests.
The most recent notification to WOAH from Thailand was in early September. Outlining only minor adjustments from the previous update, this report referred to the direct involvement of approximately 2,900 pigs in 95 ASF outbreaks in the country since November 2021. Cases have been detected in all six regions of Thailand.
From Eastern Malaysia, The Borneo Post reported recently that the pig population in the state of Sarawak has dropped sharply as a result of ASF. Since July 2021, 25,000 pigs have been culled from 31 farms in the state, and none has restocked. This is blamed on older buildings that cannot easily be upgraded for increased biosecurity. Slaughterhouses and butchers are reported to be unable to source pigs, and prices are going up for consumers.
Meanwhile, ASF also continues to circulate in Western Malaysia. In mid-September, Straits Times reported outbreaks at two pig farms in Perak state.
In the Philippines, Zamboanga Peninsular has become a hotspot for ASF. By mid-September, outbreaks had occurred in 31 communities in this region of western Mindanao, according to the Philippine News Agency (PNA). Almost 1,000 owners had been affected as pig mortalities exceeded 4,000, and culling passed 900 animals.
At the start of September, PNA reported that the first cases of ASF had been detected in Santa Magdalena. This town is located in the province of Sorsogon in the Bicol region.
South Asia: new ASF cases reported
In mid-September, Nepal's veterinary agency reported two further outbreaks to WOAH. These occurred in mid-June and mid-July at farms in the Narayani zone of the country's Central region.
Since the ASF virus was first detected in Nepal in March, 24 outbreaks have been recorded with WOAH. These have involved the mortality or culling of approximately 10,800 pigs.
Mortality over the past six months has reached more than 15,000 pigs in Nepal, according to a recent report from Kathmandu Post.
In the north Indian state of Punjab, ASF had spread to five districts, reported The Hindu in early September.
View our continuing coverage of the global African swine fever situation.
Japan reports CSF outbreak on 84th farm
In September, the Japanese agriculture ministry confirmed to WOAH a new outbreak of classical swine fever (CSF) on a pig farm.
Affected was a farm with approximately 350 pigs in the Itakura town area of Gunma. This prefecture is in the Kanto region of the island of Honshu that includes the Greater Tokyo area.
According to the WOAH notification, an epidemiologically related farm was identified in the same town. All 326 at that premises were also preventatively culled.
This latest outbreak brings Japan's total to 84 on farms since 2018. Over this period, more than 73,000 pigs have been directly impacted through mortality or culling.
Previously, the country's most recent outbreak was at the end of July, according to the WOAH report. At that time, 13 pigs died out of a herd of more than 54,000 at a farm near Nasukarasuyama city in Tochigi prefecture. Tochigi is also in the Kanto region — where all of Japan's CSF outbreaks have occurred since March.
Since October 2019, vaccination of domestic pigs against CSF has been allowed in 39 prefectures, which include Gunma and Tochigi. Indeed, vaccination is officially recommended in those areas. In these prefectures, restriction zones are not set up after disease outbreaks in these prefectures.
Like ASF, CSF (hog cholera) is a notifiable disease that affects members of the pig family, according to the WOAH.
Both diseases can cause devastating losses in domestic and wild populations, while not affecting human health. CSF is most commonly transmitted to healthy animals by direct contact from those infected with the virus. It is known that the CSF virus can survive for months in refrigerated pork, and for years in frozen meat.
Despite the similar names, CSF and ASF are caused by unrelated viruses.