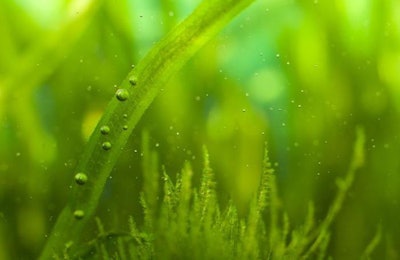 The use of algae in layer diets can help improve egg quality in several ways: it can produce eggs that have better health benefits for people, it can contribute to better yolk pigments, and it can improve egg output by hens.
1. Healthier eggs
High-DHA omega-3 algae can help bring about a host of positives, such as healthier and more productive animals that bring higher profits for farmers, as well as improved human health through DHA-enriched functional foods. In humans, DHA omega-3 is linked to improved cognitive function and learning ability in children, including benefits for children with attention deficit hyperactivity disorder, as well as reduced risk of coronary heart disease, depression and Alzheimer's disease in adults.
Also, supplementing 10 percent of soybean meal with microalgae for broilers and layers had no adverse effects in studies. Broilers fed 10 percent microalgae on an as-fed basis had similar weight gains as those fed a conventional diet. And layers showed similar production rate and egg weight. But the biggest difference was that the egg yolks had 24 percent less cholesterol when the layers were fed a diet supplemented with 10 percent microalgae.
Supplementing livestock feed with nutrients such as DHA produces enriched animal products that have the potential to improve the health and nutrition of people who eat them.
2. Better yolk pigments
Pigments that impart a yellow or orange color to egg yolk belong to an oxycarotenoid group called xanthophylls. As a rule of thumb, to achieve a satisfactory saturation of color, the feed must contain at least 15-20 ppm total xanthophylls.
From among commonly available ingredients, corn is considered a good source of xanthophylls (20 ppm), followed by the less frequently encountered but very powerful corn gluten meal (275 ppm), and the infrequently used alfalfa meal (175 ppm). The use of certain algae as a source of natural pigments also has been investigated as it was found they can contain up to 2,000 ppm xanthophylls.
Layer feeds based on maize and supplemented with alfalfa meal or maize gluten meal can satisfy the need for all-natural eggs with sufficient yolk coloration. Deeper color can be achieved by using marigold petals and algae, but the xanthophyll composition of these ingredients can be very variable as it is product specific.
3. Higher egg output
Chlorella is a microscopic, green, single cell algae. Y. Asrarov (1972) showed that poultry egg-laying quality increased up to 24 percent due to Chlorella powder use, up to 30 percent for paste, and up to 15 percent (0.25 to 0.5 g dry substance per liter) for thickened suspension. Some researchers testified that the optimal dose of Chlorella was 5 to 7 g powder, 7 to 10 g paste and up to 50 ml suspension in the daily diet of poultry. The poultry average daily weight gain increment reached 11 percent as a result of Chlorella powder use, compared to 13 to 16 percent for paste and 12 to 40 percent for suspension. The experiments carried out by A. Myzafarov and H. Nakamura showed that using Chlorella powder raised the poultry egg-laying quality by 20-30 percent while paste (0.5-2g per day) raised egg-laying quality by 26 to 30 percent. The quantity of vitamins in liver increased 2 to 3 times.
In the course of the four-month experience, the egg-laying quality increased by 23 percent with the addition of 6 ml paste to the daily diet, and the contents of carotene in eggs yolk increased by 40 percent. The output of chickens from tested eggs was 83 percent compared with 41 percent from control eggs. Due to the Chlorella use in diet, the egg-laying quality increased by 12 to 15 percent on one poultry farm. Also, the poultry average daily weight gain increased by 13 percent on another farm. A decreased rate of poultry mortality (7 percent) was seen on some farms, and 20 to 23 percent on others.