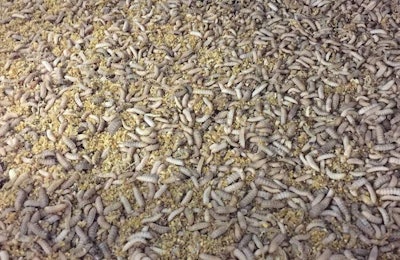 The U.S. Food and Drug Administration (FDA) has recommended amendment of the Association of American Feed Control Officials (AAFCO) ingredient definition of dried black soldier fly larvae (BSFL) to include feeding to poultry. The approval of BSFL for use in poultry feed expands the potential for this ingredient as a more sustainable source of protein and enables a nutritious, natural feed ingredient for poultry diets.
Research conducted by EnviroFlight on broiler chickens with Dr. Kimberly Livingston, assistant professor in nutrition, immunology and physiology at North Carolina State University, and on laying hens with Dr. Paul Patterson, professor of poultry science at Penn State University, supports the value of these ingredients for inclusion in feed for poultry species. This research was performed with ingredients produced at the EnviroFlight facility that have met the highest quality standards established by the U.S. Food Safety Modernization Act (FSMA).
"Black soldier fly larvae ingredients (meal, oil and whole larvae) produced by EnviroFlight provide an exciting nutrient option for laying hens with significant amounts of energy, protein, essential amino acids, fatty acids and minerals that support the hens' body weight, egg production and quality," Patterson said.
EnviroFlight is pleased to be able to support this new market opportunity with the first U.S.-based, pet food-grade, FSMA-compliant facility opening in the fourth quarter of 2018. EnviroFlight's facility in Maysville, Kentucky, will allow for production of dried BSFL to the capacity of up to 3,200 tons per year.
"We are thrilled to be the first U.S. commercial producer of BSFL, and to bring EnviroFlight products to the animal feed and pet food industries. Global need for sustainable protein continues to grow as the world population is expected to increase to over 9 billion people by 2050, and we are proud to be part of the solution to this challenge," said Dr. Liz Koutsos, president of EnviroFlight.