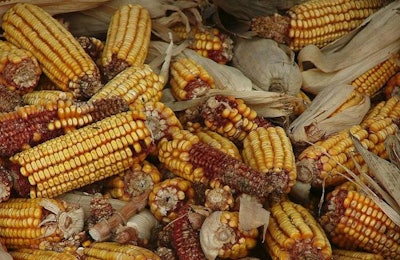 While South African corn farmers are calling for a tariff on imports of the grain in order to protect local producers, the nation's grain millers are opposed to any such move, saying it would push up food prices for consumers.
The country's grain-milling body, Grain SA, called on South Africa's International Trade Administration Commission (ITAC) in August to revise the current formula for the duty that gives local farmers protection, CEO Jannie de Villiers told Bloomberg.
Currently, the tariff would be applied to each ton of corn imported when the index price in Chicago falls below US$110 (ZAR1,700) per ton. This last happened 10 years ago but it could recur as recent strong global harvests have the index price at US$145 per ton.
If a new duty were to be imposed, local milling and production costs would rise, said National Chamber of Milling Executive Director Boikanyo Mokgatle.
While the corn price in the U.S. is low, the worst drought in South Africa since records began has more than doubled the corn price there since the start of the year. South Africa is usually a net exporter of corn but it might need to import this season in order to meet demands for both white corn (used to make a staple food) and the yellow corn for animal feed.
"We are vehemently opposed to instituting any attempt to put in a tariff," Mokgatle said in an interview at Bloomberg's Johannesburg office. "Why do we need protection with a commodity that we are so self-sufficient with? We cannot shy away from the fact that it could actually end up being a cost to the consumer."
"Almost all the big maize-exporting countries' governments are subsidizing their farmers, it is common knowledge," de Villiers told Bloomberg. "South African farmers get almost no assistance from government and we have requested that we get protection against these governments."
South Africa looks likely to harvest its smallest crop since 2007 due to the drought caused by the El Nino weather pattern.
"It remains government's responsibility to balance the interest of consumers and producers," De Villiers said.
Move to relax rules on GM crops
According to a new report in AFK Insider, South Africa is looking to relax rules on genetically modified crops such as corn to help improve yields and avert the looming food crisis.
South African corn forecast
The International Grain Council (IGC) forecasts South Africa's corn harvest at 7.5 million metric tons (mmt) for the current season, which compares with an estimated 10.6 mmt last year and 15.0 mmt for 2013-14. In most recent years, South Africa has not needed to import corn but IGC puts its requirement at 1.8 mmt for 2015-16, and even this volume looks unlikely to meet the country's total demand, based on recent years' usage.
The challenging conditions for South Africa could also affect neighboring countries that usually import its surplus corn but are also suffering severe drought. The IGC forecast for South African corn exports is just 0.2 mmt for the current season. Most years, it has exceeded 2.0mmt.
Corn forecast for Zimbabwe, Zambia
Zimbabwe is forecast to harvest just 200,000 mt corn this year, its lowest crop since 1961, according to a recent report in the country's Independent , while it requires between 1.1 mmt and 2.0 mmt. Zimbabwe traditionally relies on South Africa and Zambia for the corn needed to make a staple food but in Zambia too, the crop is forecast to be 30 percent lower than the previous year due to the dry conditions.