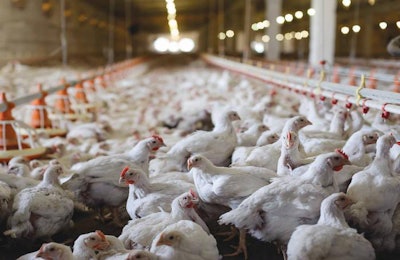 From WATTAgNet:
The past week brought us news about broiler feed efficiency, new products from IPPE, Pilgrim's new feed mill, nutrition for breeding boars, insect protein as a feed ingredient, mycotoxins, and Russia's ban on U.S. grains.
---
Improving feed efficiency is usually associated with improved profitability. Most measures to improve this useful index of productivity are by balancing the ratio between energy and amino acids, and (or) by improving nutrient digestibility by a number of different means. But, the feed efficiency rate can be improved even after the feed is mixed and delivered at the farm.
Read about 10 of the new meat processing, animal feed, poultry hatchery and poultry housing products introduced at the 2016 International Production & Processing Expo.
Pilgrim's will invest in improvements at several of its plants, as well as a new feed mill in Arkansas. Bill Lovette, CEO of Pilgrim's, outlined those plans on February 11 during a quarterly earnings call with shareholders.
To properly balance complete feeds and prepare commercial products for breeding boars, it is important to begin with setting appropriate goals, in which case we can focus on the following three: Sound development of muscles and bone structure High quality and quantity of sperm production Longevity and well-being These goals will ensure boars remain active for a long time, at high health, while being fertile and highly profitable.
Will insects be an accepted form of protein in animal feed in the near future?
As a field nutritionist, consulting worldwide, I had created a picture regarding the risk of cereal mycotoxin contamination: National cereals are easier to assess, whereas imported cereals come with a greater risk.
Russia has banned imports of U.S. corn and soybeans over what it calls "unsafe" and "infected" product, according to reports.
The corn mycotoxin survey conducted by Nutriad in 2016 concludes that last year's harvest of corn in Poland is of concerning quality in terms of mycotoxin contamination. Based on the results of this survey, it is the belief that this year's corn crop should not be considered safe for inclusion into finished feed rations for all animal species.