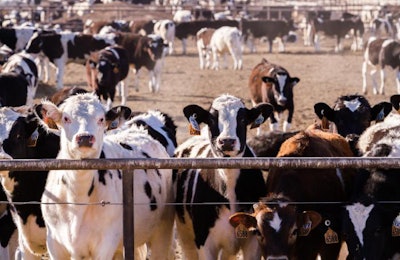 To investigate ways of reducing the environmental impact of cattle and sheep farming, the federal government of Australia has announced 6 projects selected to receive significant research grants.
Several research projects in Australia are set to receive substantial funding to pursue a goal of reducing methane emissions from the nation's cattle and sheep.
Produced by microbial fermentation in all ruminant animals, methane is among the greenhouse gases that have the greatest impacts on climate change.
In 2021, the federal government identified two emerging technologies that showed the most promise to reduce methane emissions in Australia in its Low Emissions Technology Statement 2021. One of these was livestock feed supplements, which was incorporated in the Methane Emissions Reduction in Livestock (MERiL) program.
Successful methane-reduction projects
Just announced by the government are six projects set to receive a total of AUD4 million (US$2.9 million) under stage 1 of the MERiL program.
Most of the successful applications undertake to quantify the reduction in methane by cattle and sheep after the feeding of a seaweed, Aspargopsis, and an organic compound, 3-nitrooxypropanol (3-NOP).
Awarded AUD1 million is Bovine Dynamics. Partnered by Sea Forest and Stockyard Feedlot (Kerwee), it will investigate the use of the seaweed in Angus beef cattle on a large commercial feedlot. As well as the impacts on methane emissions and productivity, researchers will look for possible effects on meat quality.
In partnership with other groups, the Commonwealth Scientific and Industrial Research Organization (CSIRO) was granted AUD800,000. The funding will be used to test 3-NOP in tropical and northern beef cattle grazing systems in northern Queensland. CSIRO's partners are Mort & Co. Lot Feeders, Australian Agricultural Co., and the Northern Australia Pastoral Co.
Set to receive AUD500,000 is FutureFeed, along with other organizations. The cooperation will test the use of Asparagopsis in beef cattle at a University of New England feedlot.
With a grant of the same magnitude, GrainCorp and its partners will carry out lab trials investigating the stability of the seaweed in livestock feeds. Work will also be undertaken to further assess methane emissions in farm animals at an Agriculture Victoria research facility.
Use of Asparagopsis in sheep in New South Wales is the topic gaining funding of AUD500,000 for the University of New England, along with Australian Wool Innovation and Sea Forest.
Last but not least, AUD700,000 has been awarded to examine the effects of feeding a non-bloating tropical legume, Desmanthus. Trials will be carried out in commercial grazing operations by Agrimix in partnership with other research organizations.
Further government funding on offer
Announcing the Stage 1 awards was Angus Taylor, Minister for Industry, Energy and Emissions Reduction.
"Australian farmers have always been at the forefront of innovation and environmental management," he said. "We are backing technologies that have the potential to reduce emissions while increasing productivity, because we know that is the key to meeting and beating our targets without imposing new costs on households, businesses or the wider economy."
To support this assertion, the Australian government has announced that the next stages of MERiL funding are now open for applications.
For Stages 2 and 3 of the program, AUD20 million is available in grants to support technologies to deliver feed supplements that will reduce emissions from grazing livestock.
Most of the country's sheep and cattle graze over wide areas. A significant barrier to the uptake of emissions-reducing measures is the challenge of regularly delivering feed supplements to these animals. To overcome this hurdle, Stages 2 and 3 of MERiL will focus on developing cost-effective delivery technologies.
More on emissions-reducing supplements
In 2020, Australia's national science agency, CSIRO, formed a company to bring to market a methane-reducing animal feed additive for cattle. This product was based on Asparagopsis. In trials, the material reduced emissions by up to 80%, it was reported.
Subsequent research on the same topic in Canada published last year indicated an advantage in combining methane-reducing feed additives.