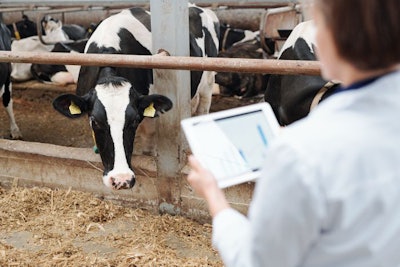 Research director wants 'essentially every data stream available to us.'
The dairy industry has pressing questions about environmental and economic sustainability, and the University of Idaho wants to answer them.
The Moscow-based university is in the early stages of designing and planning a three-part, $45 million dairy research facility to serve Idaho's growing dairy industry. Mark McGuire, director of the Idaho Agricultural Experiment Station, said the university is still collecting feedback on what kind of research the facility should be equipped to conduct. But, he said, the university would like to answer questions about sustainability, economics and nutrition.
Idaho's dairy industry has grown rapidly in recent years, causing the state to become the nation's third largest milk producer, McGuire said. Idaho didn't even make the top 10 in 1995. But the University of Idaho lacks appropriate facilities for investigating critical questions about the environmental impact of dairy cows and economic viability of dairy farming, he said.
To address these questions, the University of Idaho plans to build a three-facility research project. A public outreach and discovery center in Jerome County will feature offices, research labs and classrooms for students and research staff, while a food processing pilot plant will focus on workforce development. The research dairy itself, with a budget set at roughly $20 million will be located in Rupert, on a property the University of Idaho acquired in March.
McGuire said the university envisions a facility with pens for nutrition trials on groups of 20-60 cows, multiple commodity bays to produce rations for the entire herd, and separate spaces for research diets. A dedicated feed mill may be constructed in conjunction with the dairy, but McGuire said the university may also partner with local feed mills already in operation.
While specific areas of dairy nutrition research have yet to be identified, McGuire said university faculty are interested in calf and transition phase nutrition.
The university is evaluating various processes for waste management, and may divert manure into multiple systems for research purposes. McGuire said biogas, bioplastics and fertilizer-like biochar products are of interest.
The biggest questions involve what manner of technology to employ at the facility, which the University of Idaho expects to remain in service for at least 30 years. McGuire hopes to see the facility equipped with advanced robotics and monitoring capabilities.
"We will make sure we have essentially every data stream available to us," he said.
The University of Idaho hopes to finish drawing up plans for the dairy by the end of the year in order to open construction bids in the first quarter of 2020. It envisions a 2021 groundbreaking, and hopes to be milking cows by 2023.