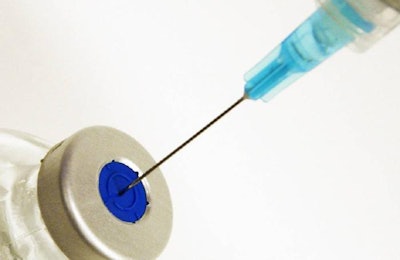 Reports say illegal vaccines have appeared on the market recently
China's Ministry of Agriculture and Rural Affairs says it is cracking down on illegal African swine fever (ASF) vaccines that have appeared on the market recently.
According to reports, the government has stepped up enforcement against "illegal production, selling and use of 'test, homemade and smuggled' vaccines for African swine fever."
To date, there have not been any successful ASF vaccines developed, so any products on the market that claim to be an ASF vaccine are illegal. Reports have claimed vaccines smuggled in from Spain and Vietnam have recently appeared in China.
"Manufacturers and sellers of the illegal veterinary vaccines will face maximum legal penalties and have their production and business licenses revoked, while workshops with no licenses will be destroyed and their production facilities and illegal gains will be confiscated," reported Xinhua. Additionally, pigs that test positive for illegal vaccines will be culled.
The ministry warned that the use of unapproved vaccines could cause "unpredictable biosecurity risks" and could further spread the disease or introduce a new strain.
Previously failed attempts at ASF vaccine
In May, Spanish researchers said a possible ASF vaccine had been developed and tested in wild boars in Spain, and one of the researchers indicated it may be able to protect other pig herds.
In June, South China's Hainan Province Agricultural authorities said an ASF vaccine developed in China has shown certain preventive effects after clinical trials, but China's Ministry of Agriculture rejected that claim, saying it found "no scientific basis" on the reported test results of the product, a natural polysaccharide injection.
And in July, Vietnamese officials said a vaccine developed at the National University of Agriculture has shown initial success in fighting ASF, but experts were skeptical and said much more research is needed.
Why has there been no success?
The simple approach — killing the virus and injecting it into the animal — doesn't work because ASF is capable of producing proteins that aren't present in the dead virus. The host immune system is unable to recognize these additional proteins when the live virus is encountered.
To protect against ASF, any successful vaccine must either contain key proteins expressed by the live virus, or else contain the live virus itself — a risky proposition with regard to a virus capable of surviving in the environment for months without a host, and that kills most of the swine it infects.
View our continuing coverage of the African swine fever outbreak.