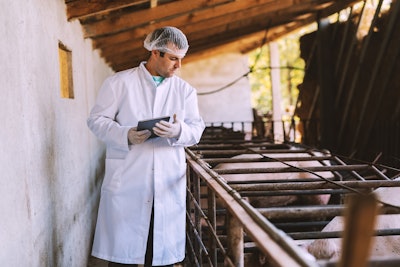 Dusan Petkovic | BigStock.com
Chinese scientists are reporting initial successful trials with a new vaccine to protect pigs against the African swine fever (ASF) virus.
A study carried out at the Harbin Veterinary Research Institute demonstrated that a high dose of the vaccine was effective, according to South China Morning Post. All the vaccinated pigs developed detectable antibodies, and survived the virus infection. In contrast, all of the unvaccinated controls died within 12 days of the viral challenge.
The vaccine candidate is described as a live but weakened version of the ASF virus. It was created as a new mutant in which two genes that confer high pathogenicity were deleted.
In October, it was reported that an ASF vaccine from a third company was undergoing evaluation in Vietnam.
Just three months previously, Vietnam authorized the world's first ASF vaccines for use in pigs.
So far, the AVAC ASF vaccine from Vietnam has been exported to five countries in Asia, reports VietnamPlus. Destinations were India, Indonesia, Malaysia, Myanmar and the Philippines.
Philippines fears unregulated vaccine use
In the Philippines, the spread of ASF may result from the use of unregulated vaccines. According to a farmers' organization, a black market has emerged for these vaccines, reports PhilStar. Originating in Vietnam, the vaccines have not yet been approved by the Philippines' authorities, yet 300,000 doses have been imported.
The association alleges that these imports are available for sale, and some users are reporting "horrendous" results. Furthermore, it says, vaccine virus is being shed from some farms, raising the risk of further spread of an even more virulent virus.
According to a senior official with the Bureau of Animal Industry, one of the vaccines of Vietnamese origin — AVAC ASF LIVE — has been tested at six farms in the Philippines. Once it is finally approved for use in the country, approximately 600,000 doses will be imported into the Philippines this year.
About 19,300 doses of ASF vaccine have been distributed to 17 farms in the Philippines, reports Rappler.
This is according to the latest information supplied to the Senate at the end of October. The data led to a Senate inquiry to ascertain why the vaccine was apparently in uncontrolled use on private farms before an official certificate of use has been issued.
Further ASF outbreaks in Southeast Asian pigs
In the Philippines, ASF continues to spread.
While the number of regions affected so far remains at 17, cases have been confirmed in three more provinces since the end of September, according to the latest Bureau of Animal Industry update dated October 13.
Latest to declare a "state of calamity" from ASF is the province of Nueva Vizcaya, according to the Philippine News Agency. Around 1,300 hogs in 133 piggeries in nine towns tested positive for the virus by mid-October. This province is in the Cagayan Valley region of the northern main island of Luzon.
Meanwhile, the same source reports continuing pig mortalities in Negros Occidental in the Western Visayas region, and in the province of Romblon in Mimaropa.
Although at a lower rate than in recent years, new outbreaks of ASF are also reported in Vietnam.
Up to September 21, 343 outbreaks occurred in 38 provinces in 2023, according to the latest update on the ASF situation in Asia from the United Nations' Food and Agriculture Organization (FAO). Around 12,200 animals were culled as a result.
Of these outbreaks, 38 were recorded in 12 provinces during the month of September. Disease hot-spots are in Nghe An, a province in the North Central Coast region, and Bac Kan in the Northeast region.
In Indonesia, Southeast Sulawesi has become the eighth province to confirm cases of ASF in pigs, according to the FAO. Affected there have been 356 pigs up to October 25.
Recording the highest losses of pigs in Indonesia so far have been the provinces of Riau Islands, South Sulawesi and Central Sulawesi.
ASF developments elsewhere in Asia
There is evidence that ASF continues to spread in the northeast Indian state of Manipur.
After pig carcasses were found in the region's largest lake and rivers, Times of India reported that authorities were investigating, and urging farmers to dispose of their animals properly.
So far, ASF has been detected in seven districts of the state, with five of the latest outbreaks in Imphal West.
Since South Korea's first ASF cases in 2019, the country's total number of ASF-infected wild boar has reached 3,302, according to Pig & People (as of October 28). This is an increase of 32 from the status 10 days previously. Infected wild boar have been found in 38 cities/counties in four provinces.
Confirmed at the end of September was South Korea's most recent outbreak on a farm, and it brought the country's total in this population since 2019 to 38.
Last month, the Federal Democratic Republic of Nepal was added to the list of countries considered to be affected by ASF by the U.S. Department of Agriculture (USDA) Animal and Plant Health Inspection Service, APHIS.
Since the first ASF cases in Nepal in March 2022, the authorities have registered with World Organisation for Animal Health (WOAH) 40 outbreaks across the country. The most recent reported outbreak started in May.
View our continuing coverage of the global African swine fever situation.
Restrictions lifted on Japan's most recent CSF-affected farms
Approximately two weeks ago, the Japanese agriculture ministry announced that movement restrictions had been lifted from around two farms previously affected by classical swine fever (CSF).
These restrictions were imposed in late August, when the CSF virus was detected at two farms in the Karatsu city area of Saga prefecture. Bringing the national total for CSF outbreaks to 89, these were the country's first cases on the most southwestern main island of Kyushu.
Free of the disease since 1982, CSF was detected again in Japan around five years ago. Since then, the veterinary authority has registered more than 1,700 outbreaks with WOAH. These have directly involved more than 6,000 wild boar, as well as more than 361,000 domestic pigs.
Like ASF, CSF (hog cholera) is a notifiable disease that affects members of the pig family, according to the WOAH.
Despite the similar names, CSF and ASF are caused by unrelated viruses. However, both diseases can cause devastating losses in domestic and wild populations. Neither virus impacts human health.