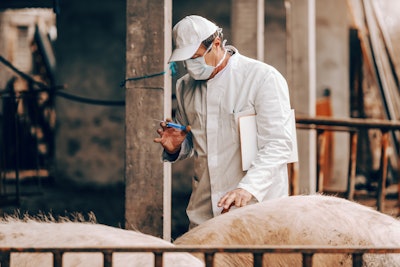 dusanpetkovic | iStock.com
In Vietnam, a third vaccine against African swine fever (ASF) is under evaluation for domestic pigs.
For registration testing, two commercial farms were selected for the evaluation of the DACOVAC-ASF2 vaccine from the Dabaco Group, reports Express Healthcare Management. The vaccine has been administered to two groups of 50 pigs — one at 4 weeks of age, and one at 8 weeks of age.
According to this source, the pigs had developed antibodies against the ASF virus by 28 days post-vaccination. Furthermore, these initial tests suggest the vaccine had no adverse effects of pig health or performance.
By early November, work to ascertain the duration of protection conferred by the vaccine is scheduled for completion.
Further studies are ongoing to establish the effectiveness and safety of vaccinating pigs of different ages, as well as on the development of protocols for administering the vaccine on large-scale commercial farms, as well as to smaller herds.
By the end of the fourth quarter this year, Dabaco Group says it aims to have its vaccine commercialized and in mass production.
Just three months ago, Vietnam was the first country in the world to authorize ASF vaccines. These were NAVET-ASFVAC (from Navetco National Veterinary Joint Stock Co.), and the AVAC ASF LIVE vaccine (from AVAC).
In some other Asian countries, registration of the AVAC vaccine is underway.
DACOVAC-ASF2 is a freeze-dried attenuated product developed by the Dabaco Group subsidiary, Dacovac Pharmaceutical and Animal Health Co., according to Vietnam Agriculture last month.
At that time, initial tests on three batches of the vaccine showed it met 80-100% of standards for efficacy and safety. This source also references testing in 12-week-old swine.
According to the country's Deputy Minister Phung Duc Tien, the development of three vaccines in Vietnam is a great achievement. However, he stated that further work on ASF vaccination is still to be completed.
Among the outstanding aspects he highlighted are how it can be used to manage an outbreak in different types of pigs, such as sows and piglets, and in large and small pig populations. Furthermore, he said, it would be advantageous to develop easier vaccination methods.
Philippines authorities consider ASF vaccine authorizations
In the Philippines, applications are under consideration for the importation of four ASF vaccines.
According to a recent report in Business Inquirer, the Department of Agriculture has requested special import permits for three products.
A Phase 1 trial was completed in May, and three farms in different provinces have been selected as the locations of Phase 2 field trials, the source reports. Authorities are awaiting complete documentation from a second vaccine company.
In order to bring to an end the country's four-year battle to eliminate ASF, the government has allocated PHP1.5 billion (US$26.4 million) for the vaccination of the nation's hogs.
Thailand records first ASF cases in 2023
At the end of September, tests on a village herd in the far north of Thailand revealed the presence of the ASF virus.
According to the official notification to the World Organisation for Animal Health (WOAH), five of the 174 animals died, and the rest have been destroyed at the settlement in the province of Chiang Rai.
Source of the infection is thought to be either swill feeding or fomites. All farmers agreed to cull the entire pig population in the remote village, the report notes. The local ethnic group uses black pigs in various ceremonies, and the Thai authorities say there is a risk of ASF recurring. It explains that it will be challenging to prohibit the entry of replacement animals, and that the local farmers lack the facilities for effective disease prevention.
Between November 2021 and December 2022, Thailand's veterinary agency registered 114 ASF outbreaks in village pig herds with WOAH. These occurred in all six regions of the country, and 36 of its 76 provinces, but not in Chiang Rai.
National authorities are cracking down on those who illegally import pork, reported Bangkok Post recently.
Already this year, around 180 people have been arrested in connection with almost 4,800 metric tons of smuggled pig meat products after a call from the prime minister to authorities to end the illegal trade. In the whole of 2022, 21 people were detained on related charges.
Disease developments elsewhere in Asia
In the northeast Indian state of Manipur, one farm in the Imphal West district has been designated as the epicenter for a new ASF "wave," according to India Today.
At several farms in that district, as well as Imphal East and Kakching, owners reported fever and elevated mortality in their animals, reported Mid-Day this week. As movement bans on pigs and pork products were put in place, this source identified the Central Agricultural University farm as the location of an outbreak.
In May, ASF was detected again in the Primorskiy region of Russia's Far Eastern federal district.
Two first outbreaks were at large commercial farms operated by Rusagro, where the numbers of pigs have been updated in a recent notification to WOAH. As a result, each of the premises is now recorded with a population of more than 53,000. Including two subsequent outbreaks in backyard herds, the total number of pigs directly affected by the disease in the region stands at around 107,500.
A state of calamity regarding ASF has been declared in a third town in the MIMAROPA region, according to the Philippine News Agency (PNA). Added to this status in the region, which comprises an island chain to the southwest of Luzon, was San Fernando in early October.
Meanwhile in northwestern Luzon, cautious restocking of backyard hogs continues in the province of Ilocos Norte. PNA reports warnings from the provincial veterinarian about the risks of re-infection through contaminated pig feed. Newly purchased feed should be stored in a lidded container, the official advises, and paper sacks should not be taken into hog pens. The warnings also cover the increased ASF risks associated with buying feed or artificial insemination services from traders outside the province.
Since the country's first ASF cases in 2019, South Korea's total number of ASF-infected wild boar has reached 3,270, according to Pig & People (as of October 18). Infected wild boar have been found in 38 cities/counties in four provinces.
Most recent outbreak on a South Korean farm was the country's 38th, which started at the end of September.
View our continuing coverage of the global African swine fever situation.