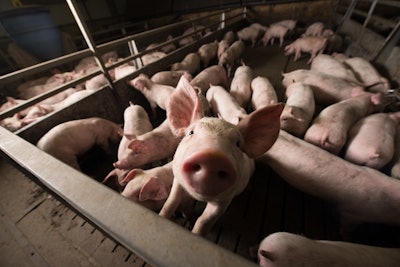 agnormark | Bigstock.com
While the Balkan states of Bosnia-Herzegovina and Croatia continue the battle to control African swine fever (ASF) in domestic pigs, just a few new cases in this population in other European states. In contrast, 10 nations in the region have recorded further outbreaks in wild boar.
Over the past week, four European states have officially registered new cases of ASF in their respective domestic pig populations.
Recording the highest number of outbreaks over this period was Bosnia-Herzegovina with 50 further premises affected, based on information supplied to the European Commission (EC) for its Animal Disease Information System.
In one of the nation's three primary regions — the district of Brcko — ASF outbreaks have been confirmed at 255 locations so far. According to Sarajevo Times on October 20, 10,600 pigs have been culled to control the spread of the virus, and affected owners will soon receive financial compensation for these lost animals.
However, a senior veterinary official stated that some time has elapsed since the last outbreak, which he attributed to the onset of cooler weather. However, he urged pig farmers to maintain strict biosecurity measures, and not to move new pigs to their farms until the epidemic is declared closed.
Between the first cases in the country in June and early October, 1,355 ASF outbreaks have been reported across Bosnia-Herzegovina. This is according to official notifications to the World Organisation for Animal Health (WOAH).
To WOAH, the animal health agency of Croatia has confirmed a further 10 ASF outbreaks over the past week. Directly affecting a total of 366 pigs, these all occurred in the northeastern country of Osijek-Baranja between the end of September and mid-October.
These latest outbreaks bring the Croatian totals over the past four months to 1,066 outbreaks impacting more than 22,000 domestic animals, and a small number of wild boar.
Furthermore, one more outbreak in backyard or commercial herds has been registered with the EC by Romania and Ukraine.
10 European states confirm new cases in wild boar
While the EC has not updated its System with the number of outbreaks for the year to date for two weeks, weekly reports mention new ASF cases in 10 countries of Europe.
Registering the largest number of new outbreaks in this population over this period is Bulgaria (with 52), followed by Poland (36), Italy (19), Lithuania (18) and Latvia (12). Each confirming between one and six additional outbreaks were Bosnia-Herzegovina, Estonia, Hungary, Romania and Slovakia.
Since the ASF virus was first detected in Germany in September 2020, the number of outbreaks in wild boar has reached 5,564. Positive cases have been confined to three eastern states of the country. According to the national veterinary agency, the Friedrich-Loeffler Institute (as of October 27), just six of these cases were confirmed over the past 28 days.
Developments in ASF control
This month, the chief veterinarian of Northern Ireland warned that ASF would have significant detrimental impacts on the pig industry if the virus were to reach the territory.
According to the agriculture department DAERA, Robert Huey stressed that there has never been a case of the disease in the United Kingdom or Ireland. However, After the recent detection of cases in Swedish wild boar, he warned of the need to remain vigilant.
Because of the risk to animal health and welfare, DAERA repeated that it is illegal to bring potentially contaminated pork products in Northern Ireland from ASF-affected areas. Even in smoked, dried, and cured meats, the ASF virus is known to survive for months.
In the north German state of Schleswig-Holstein, wild boar hunters are warned to take care of hygiene ahead of the main hunting season.
So far, no cases of ASF have been detected in this state, according to Schweine. To maintain this disease-free status, the state agriculture ministry has warned local people not to hunt in areas affected by ASF. Hunters must report any dead or diseased wild boar, and all clothing, footwear and dogs must be cleaned and disinfected properly after the hunt. The ministry also stresses the vital importance of keeping strict separation between hunting and domestic pigs.
This week, WOAH issued a warning to the world's pig farmers of the potential dangers of administering untested or ineffective ASF vaccines on their animals.
There is still no fully authorized vaccine to control ASF in pigs. However, several products are reported to be undergoing testing after authorization of the world's first ASF vaccine in Vietnam in July.
View our continuing coverage of the global African swine fever situation.