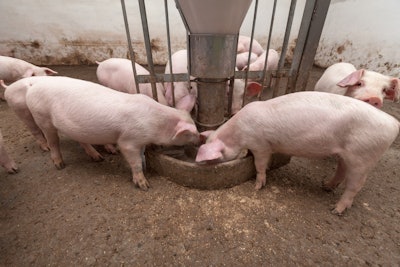 Igor Stramyk | Shutterstock.com
African swine fever (ASF) outbreaks are hitting more domestic pigs in southeastern and eastern Europe, with non-commercial herds bearing the brunt of the virus onslaught. Among their wild boar populations, 13 European states have registered new cases of ASF over the past week.
Describing the ASF situation in part of Bosnia and Herzegovina as "fierce," the China Embassy has donated materials to the regional authorities to help control the disease.
The nature of this assistance is not specified in the China Daily article. However, it was reported to have been delivered to the government of the Republic of Srpska at the end of July. On behalf of the regional president, adviser Nina Sajic expressed gratitude to China, which was the first nation to offer such assistance.
In the second week of July, the growing number of ASF outbreaks in the Republic led to the declaration of a state of emergency in the city of Bjeljina and two adjacent municipalities.
Latest official report from the national veterinary agency puts the number of confirmed ASF outbreaks in Bosnia and Herzegovina's swine since June 21 at 341.
As well as a few cases in wild boar, directly impacted have been around 18,700 domestic pigs, according to the notification to the World Organisation for Animal Health (WOAH). Outbreaks have been confirmed in all three regions of the country, namely the Republic of Srpska, the Federation of Bosnia and Herzegovina, and the district of Brcko. So far, these reports describe all outbreaks among domestic pigs in backyard herds. While a majority of affected premises have small numbers of animals, two of the recently reported outbreaks have hit herds comprising around 1,300 and 1,700 pigs.
Widespread ASF outbreaks elsewhere in Balkans
Other countries in southeastern Europe on the Balkan Peninsula are also reporting high numbers of new ASF outbreaks in wild and domestic pigs.
During the past week, Serbia's animal health agency has registered with WOAH a further 80 outbreaks. Affecting just over 1,100 animals, these started between June 27 and July 18. Outbreaks were confirmed in six districts in herds of up to 191 swine.
Since the nation's first ASF cases in January 2020, the number of confirmed outbreaks has just passed 1,300 (including wild boar).
Meanwhile, Romania's total outbreaks in domestic pigs has increased by 47 over the past week, based on WOAH notifications. All affected herds described as "backyards." One premises had almost 100 pigs, but the rest had no more than 21 animals.
In Bulgaria, a pig carcass found dumped in a public place has tested positive for the ASF virus, according to the food safety agency, BFSA. With two recent outbreaks in another province (Montana), this was the first case to be detected in Lovech in north-central Bulgaria.
The agency reminded pig owners to report signs of ill health in their animals, and to dispose of carcasses carefully so they do not present a risk for the further spread of infection.
The European Commission (EC) has not published an update of its Animal Disease Information System for the year so far since August 4.
However, a refresh for the week of August 3-9 includes an additional 102 ASF outbreaks in that period alone for Croatia.
Italy, Russia, Ukraine report new cases in domestic swine
In the south Italian region of Calabria, a single pig at a farm died in mid-July, and has since tested positive for the ASF virus. Based on reports to WOAH, the number of farmed pigs involved in outbreaks in this region since April now stands at 559 at six premises.
After a brief absence, ASF has been detected again in the central Ukrainian province of Kirovohrad. Detection came after the death of one of the 23 domestic pigs in a backyard herd. As well as the remaining pigs, 36 captive wild boar at the premises were also culled.
Also after a short hiatus, further ASF outbreaks have been reported to WOAH by the Russian veterinary authority in two regions. Affected were one backyard herd in Rostov and Stavropol. These belong to the Southern and North Caucasian federal district, respectively.
Also confirmed was a sixth outbreak in the Vladimir region in Russia's Central federal district. Affected was a herd comprising nine backyard pigs, apparently located more than 100 kilometers from the previous outbreaks.
13 European nations confirm new ASF cases in wild boar
Over the past week, WOAH has been notified about further cases of ASF in wild boar by several national authorities.
These include Germany (51 new cases), Italy (18), Serbia (14), Romania (5), Hungary (4), North Macedonia (3), and Bosnia and Herzegovina (1).
Furthermore, the EC was advised of 49 additional outbreaks in this population in Latvia, 41 in Poland, and small numbers of new cases also in Bulgaria, Croatia, Estonia and Lithuania.
View our continuing coverage of the global African swine fever situation.