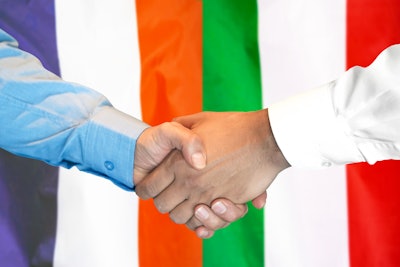 polack | BigStock.com
As the number of cases of African swine fever (ASF) in European Union states and their immediate neighbors passes 5,000 for the year, two countries have reached an agreement to cooperate over disease control.
With the goal of preventing the spread of the ASF virus from infected areas, the agriculture ministers of France and Italy have agreed to greater cooperation.
Last week, Ministers Marc Fesneau and Francesco Lollobrigida of France and Italy, respectively, jointly announced the formation of an ASF "contact group." According to the French agriculture ministry, future control of the disease will require cross-border cooperation. Among the key elements of the agreement is the promotion of information exchange, as well as harmonization of surveillance and control methods. Furthermore, common strategies will be needed for the control of the wild boar population, particularly in border areas.
So far, no cases of ASF have occurred in France. However, the virus has been detected in seven regions of Italy since the start of 2022. Among these are Piedmont and Liguria, where cases in wild boar have been spreading over a gradually increasing area in recent months.
Sharp increase in ASF cases in Europe's domestic pigs
So far in 2023, the total number of confirmed ASF outbreaks on farms and in backyard herds is 337. Covering EU member states and immediate neighbors, this is according to the Animal Disease Information System of the European Commission (EC; as of June 30).
Compared with the previous update 13 days previously, this total represents a sharp jump of 82.
Furthermore, the first cases of this year in this population have been reported by Bosnia and Herzegovina, Croatia, Latvia, Lithuania and North Macedonia. These bring to 13 the number of European states registering one or more outbreaks of ASF in domestic pigs with the EC so far in 2023.
The most outbreaks in this category were in Serbia, now with 164 so far this year, followed by Romania (now with 122). With a total of 15 outbreaks, Moldova has recorded no cases since March. Each of the other 10 nations covered by the EC system has reached a total of up to 10 confirmed outbreaks in swine this year.
Since the previous report (dated June 17), Greece, Italy, Poland, Romania and Serbia have all registered further outbreaks through this System — an additional two, two, five, 28 and 33 outbreaks, respectively.
For comparison, 12 European states registered a total of 537 outbreaks in this population with the EC in the whole of 2022. Of these, 329 occurred in Romania.
Further outbreaks in 10 European states
Based on recent notifications to the World Organisation for Animal Health (WOAH) from the respective national veterinary authorities, Serbia is the country reporting the most new ASF outbreaks in pigs. Directly impacted were 416 pigs at 45 locations, starting between May 8 and June 13. All were in backyard or village herds, comprising between one and 43 animals. While a first outbreak was recorded in the district of Belgrade, the other affected premises were located in Branicevo and South Banat, where previous cases have been recorded.
Since confirming its first ASF cases on June 21, the veterinary authority in Bosnia and Herzegovina has notified WOAH about a total of 23 outbreaks, all in backyard herds. Outbreaks are mainly confined to an area of around a 10-kilometer radius. However, one of the latest premises to be affected appears to be approximately 50 kilometers to the northwest.
Of the 19 latest outbreaks to have been registered by Romania's animal health agency, 15 are in one area. Involving a total of 98 pigs, all these outbreaks were in backyard pigs herds.
WOAH has now been notified of 12 outbreaks in domestic pigs in Croatia. Since this Balkans nation's first confirmed cases on June 26, a total of 278 swine have been affected by the outbreaks. All these have involved small farms, mainly within a 10-km radius.
Since Poland's first ASF outbreak of 2023 in April, the chief veterinary office has confirmed cases in 10 pig herds. Directly impacted have been a total of almost 4,900 animals in four provinces. Among the recent outbreaks was one at the end of June involving the largest number of pigs (1,779) so far in this outbreak wave.
Over the past 10 days, veterinary authorities of several other countries have registered further ASF outbreaks in backyard pig herds: North Macedonia (three further premises affected), Greece and Italy (each with two), and Latvia and Russia's Saratov oblast (each with one).
ASF outbreaks in European wild boar passes 5,000
Already this year, the total number of ASF outbreaks across Europe has reached 5,090, according to EC's information system (up to June 30). This the latest total from 16 countries registering one or more outbreaks through this system since January 1.
Since the EC's previous update dated June 17, 10 states have reported new cases in this population.
Registering the highest number of outbreaks in this category so far this year is Poland with a total of 1,900. Following are Germany (now with 722), Italy (678), Slovakia (476), and Hungary (315).
In addition to these five nations, also reporting new ASF outbreaks to the EC System since the previous update were the Czech Republic (Czechia), Latvia, Lithuania, Romania and Serbia.
For comparison, there were a total of 7,442 outbreaks of ASF in wild boar across 15 European countries covered by the EC System in 2022.
Notifications to WOAH offer greater detail of some of these disease developments.
For example, of the 72 most recently reported cases of ASF in Italy's wild boar population, 54 were in the northwestern regions of Piedmont and Liguria. Other infected animals were found further south in Lazio/Rome, Calabria and Campania.
In North Macedonia, wild boar infected with the ASF virus have been found for the first time in three municipalities, two of which border Greece to the south, and Albania to the west.
The EC does not monitor the disease situation in Russia. However, the country's animal health agency has notified WOAH about seven wild boar testing positive for the ASF virus. They were found at two locations in the Saratov region, which is part of the Volga federal district.
In Germany, ASF virus was first detected in September 2020. Since then, virus-positive cases in the country's wild boar have reached 5,448, according to the national veterinary agency — the Friedrich-Loeffler Institute. This figure includes 80 cases confirmed over the previous 28 days. The great majority of the cases reported in Germany's wild population since the start of June have been confined to one district in each of the eastern states of Brandenburg and Saxony.
For the northwest Ukrainian province of Volyn, ASF among the wild boar population has been "resolved." This is according to a notification to WOAH, and comes after a single outbreak involving one animal in late April.
View our continuing coverage of the global African swine fever situation.