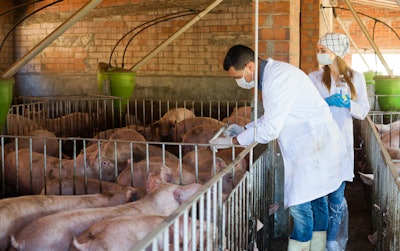 Iakov Filimonov | iStock.com
In Vietnam, two vaccines to protect pigs against African swine fever (ASF) are awaiting approval, say global veterinary officials.
Previously, both were authorized for testing in the country, reported Reuters this month.
As a result of field trials, it appears that the vaccines were effective. Best protection came after two doses, and authorization is in progress in Vietnam. If granted, this will be a world first for ASF control in pigs.
According to Reuters, both of the vaccines were developed in collaboration with U.S. scientists.
Of the two candidates, NAVET-ASFVAC was a joint enterprise with Vietnamese company NAVETCO. While some problems emerged in initial testing last year, U.S. Department of Agriculture (USDA) officials said that it was subsequently shown to be effective and safe. It is an attenuated live vaccine.
Also tested was a second vaccine, AVAC ASF LIVE. It was discovered in the U.S. and commercial development was carried out by Vietnamese company, AVAC. This has also been tested in field trials, but Reuters reports the results have not yet been scrutinized by the USDA.
According to Khmer Times, five clinical trials on the NAVET-ASFVAC vaccine in Vietnam showed 100% efficacy in vaccinated pigs, giving protection against ASF for six months.
Official launch of this vaccine by Vietnam's animal health department was expected by mid-June.
Vietnam approves vaccine for 2 ASF-hit nations
An ASF vaccine manufactured in Vietnam has received approval from the authority in that country for use in the Philippines and the Dominican Republic.
As well as Vietnam, the vaccine has also been evaluated in the Philippines, said the head of Vietnam's animal health department, according to VietnamNet. Furthermore, the agriculture ministry has been arranging delivery of the vaccine to the Caribbean nation. Exports of the vaccine are expected to amount to 700,000 doses.
Based on official notifications, there have been around 1,000 confirmed ASF outbreaks in the Philippines, directly impacting almost 484,000 domestic pigs since July 2019. This is based on reports to the World Organisation for Animal Health (WOAH).
This month, Dominican Today reported that the NAVET-ASFVAC vaccine had already been administered to pigs in the Caribbean state. According to a plan developed jointly with Vietnamese officials, the vaccine would initially be tested under controlled conditions on pigs at 8-10 weeks of age. If successful, administration will be extended to cover all swine in order to prevent further outbreaks of ASF in the country.
After a 40-year hiatus, ASF outbreaks in the Dominican Republic resumed in April 2021.
The latest update on the situation was received by WOAH last December. At that time, there had been 247 confirmed outbreaks in the Caribbean state, affecting around 19,500 domestic pigs.
First cases of ASF in 2 Philippines provinces, 1 city
The province of Antique has declared a "state of calamity" with respect to the recent sudden spike in ASF cases in pigs, reports the Philippine News Agency (PNA).
Presence of the ASF has recently been confirmed in samples taken in the municipality of Hamtic. Here, mortalities from the disease are already approaching 1,800, with cases in 28 communities.
Located in the Western Visayas region, Antique is the last of the six provinces to confirm ASF cases.
In the same region, around 2,500 hog owners in the province of Negros Occidental have lost pigs to disease, PNA reports. Some of these animals are thought to have contracted classical swine fever — a disease of pigs leading to similar symptoms as ASF but caused by an unrelated virus.
Also in Western Visayas, a wildlife park has been closed in order to protect an endangered pig species. A small population of Visayan warty pigs was considered under threat when ASF cases were detected in pigs at a nearby semi-commercial farm.
Earlier this month, PNA reported that pig movements had been banned in some areas of Dumaguete. This came after the first ASF cases in the city, which is the capital of Negros Oriental, a province in the Central Visayas region.
On the northernmost island of Luzon, 155 further ASF outbreaks have recently been reported to WOAH. According to the national animal health agency report, these affected around 1,500 pigs in village herds between July 2022 and March 2023.
These bring to 861 the number of confirmed ASF outbreaks on Luzon since July 2019. Directly impacted through mortality or culling have been around 412,500 swine.
Portugal offers support for ASF control in the Philippines
Officials have welcomed an offer from Portugal to help the Philippines bring ASF under control.
Portugal is one of the two European states to have eradicated ASF, according to Prensa Latina this month. Two experienced experts from the Portuguese pig producers' association are to help train Philippines' officials on combatting the disease.
In 1957 and 1960, the genotype I ASF virus spread out of Africa, initially to Portugal, according to the Pirbright Institute. Subsequently, the infection spread in Europe and further afield. Apart from Sardinia, the disease was eradicated from all affected countries by the mid-1990s.
A second form of the ASF virus — genotype II — was first detected outside Africa in Georgia in 2007. It is this virus serotype that has since spread to many nations across Europe, Asia and the Americas (Caribbean).
ASF 'resolved' in Bhutan, Hong Kong, east Russian region
Since the start of June, the veterinary authorities of these territories have declared to WOAH that ASF outbreak series have been "resolved."
For Hong Kong, the declaration was made after a single confirmed outbreaks in early February. Affected at that time were approximately 100 pigs at a farm. Testing at the five premises with pigs within a 3-kilometer radius revealed no further cases, and subsequent tests of pigs outside this area have been positive for the ASF virus.
In the South Asian state of Bhutan, eight outbreaks of the disease have been reported to WOAH since late March. Affecting just over 3,800 pigs in total, the outbreaks were widespread along the nation's southern border with India.
One month ago, the Russian veterinary authority reported to WOAH a single case of ASF in a domestic pig in the Krasnoyarsk region. No further outbreaks have been detected, and so the disease event has been closed in this region of the Siberian federal district.
More ASF cases in South Korea wild boar
The number of ASF-infected wild boar in South Korea has reached 3,141, according to Pig People (as of June 23). This is just eight more cases than a previous update dated May 27.
Since the country's first cases in 2019, infected wild boar have been found in four provinces. For each of the first five months of this year, the numbers of infected wild boar are below the same months of 2022, the same source reports.
With no new outbreaks in domestic pigs, the total on South Korea farms so far this year remains at eight, and 36 since 2019.
View our continuing coverage of the global African swine fever situation.