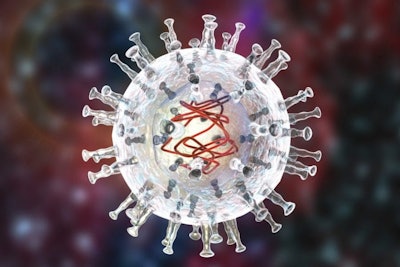 Tyrannosaurus | Bigstock.com
Chinese scientists say they have identified what appears to be a new strain of the African swine fever (ASF) virus circulating in three provinces of the country.
According to a paper published in the journal Nature Communications in May, the new virus appears to be a hybrid of the genotype II strain that caused the 2018 outbreak of ASF that began in China, and a more recent but less deadly strain identified in 2021. That strain, dubbed genotype I for its apparent similarities to older versions of the ASF virus, causes chronic disease in pigs but is not as deadly as genotype II, which kills 80% or more of the pigs that it infects, according to Chris Netherton, head of the ASF vaccinology group at The Pirbright Institute.
Although the data from the Chinese study does not suggest the new strain is any more contagious than existing variants of ASF, Netherton said evidence from some initial trails conducted in China suggest that the virus may be able to evade the ASF vaccines that are in development around the world, which are based on the genotype II virus.
"The main concern is that we've spent the last five to 10 years trying to generate vaccines, and we've almost got to the point where they look like they are working ... and suddenly this happens," Netherton said.
It is also surprising, Netherton said, that the Chinese research team has identified what appears to be an entirely new variant of ASF. African swine fever is caused by a DNA-based virus, and so it is believed to be more stable and less likely to mutate than RNA-based viruses like influenza.
However, some viruses have the ability to trade genetic information if they infect a single cell at the same time. Whether the ASF virus has this capacity is not known, Netherton said, but the fact that this new strain appears to contain pieces of both genotype I and genotype II ASF suggest this is a possibility — one that could inform vaccine design in the future.
The Chinese paper indicates the new strain has the lethality of the genotype II outbreak, and that the variant has been detected in the Jiangsu and Henan provinces, and the Inner Mongolia Autonomous Region. The next question to watch, Netherton said, is whether the variant continues to spread — and whether it is eventually identified outside China.