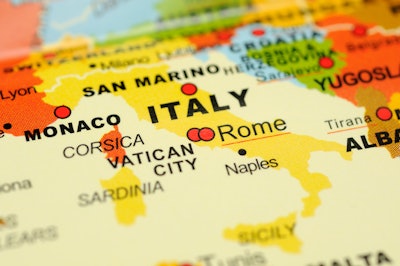 Bedo | BigStock.com
This month, local media in Italy reported fears of African swine fever (ASF) spreading to the northwestern region of Lombardy.
This fear has become reality for the one of the country's main centers of pig production.
Affecting a wild boar, the first case of ASF in the region was officially recorded last week. Testing positive for the ASF virus was a wild boar found dead in the province of Pavia.
This development threatens future exports of pig meat products from one of the country's most important regions, according to the Italian Farmers' confederation, CIA.
President of the regional CIA has called for urgent action to address the entry of ASF to the area before export destinations start restricting the trade. Among the measures required is a further stepping up in targeted culling of the wild population, involving more people than local hunters.
With more than 4.15 million animals on 2,700 farms, Lombardy is the region with more than half of the national pig population, according to the CIA. Across Italy, pig farming and pork processing generates EUR11 billion (US$12 billion) in turnover each year — including EUR1.6 billion in exports — and provides 70,000 jobs.
After a second confirmed ASF case in a wild boar in Pavia, La Provincia reports that additional restrictions have been put on people accessing the "closed" zone.
Only local residents are now permitted to enter the zone to collect mushrooms or truffles.
Recent spread of the ASF virus in the wild population — particularly as the virus has jumped in recent months to Campania and another southern region, Calabria — had already alarmed Italy's pig farmers.
Latest cases in Lombardy bring to seven the number of Italian regions registering outbreaks of ASF since the start of 2022.
Based on official notifications to the World Organisation for Animal Health (WOAH), the number of cases of ASF in Italy's wild boar population stands at 904. Almost 800 of these cases were in the northwestern regions of Piedmont, Liguria, and now Lombardy. Furthermore, there have been three outbreaks in domestic pigs, affecting backyard herds.
Serbia records most ASF outbreaks in domestic animals
So far in 2023, the total number of confirmed ASF outbreaks on farms and in backyard herds at 255. Covering EU member states and immediate neighbors, this is according to the Animal Disease Information System of the European Commission (EC; as of June 17).
Registering the most outbreaks in this category is Serbia, now with 131 so far this year, followed by Romania (now with 94). With a total of 15 outbreaks, Moldova has recorded no cases since March.
Since the previous report (dated June 9), Serbia, Romania and Poland have recorded further outbreaks through this system — an additional 45, eight and four outbreaks, respectively.
Up to three outbreaks in domestic pigs have also been recorded through this system by Germany, Greece, Italy, Poland and Ukraine.
For comparison, 12 European states registered a total of 537 outbreaks in this population with the EC in the whole of 2022. Of these, 329 occurred in Romania.
First ever ASF outbreak in Bosnia and Herzegovina
Bosnia and Herzegovina has reported to WOAH its first ever case of ASF. Affected was the only pig at a premises described as a "farm" in the Republic of Srpska. Located in the northeast of the country, the outbreak appears to be within 10 kilometers of the border with Croatia and Serbia. Source of the infection is unknown.
Among the most recent outbreaks reported to WOAH by Romania's animal health agency is one at a large commercial farm in the western county of Timis. In mid-June, almost 900 of the more than 54,500 pigs there died. The other nine new Romanian outbreaks were widespread across the country, and involved backyard pig herds.
To WOAH, the veterinary authorities of Greece and North Macedonia have each reported one further ASF outbreak in domestic pigs. Involving small herds, these occurred in the same areas as previous outbreaks.
Poland's outbreak total in swine for this year has risen to five, according to the chief veterinary office.
Latest outbreaks included first cases in 2023 in the central-western province of Greater Poland, and Lublin in the southeast. Each of the three affected premises had between 109 and 1,216 pigs. Including previous outbreaks starting in April, these bring the total animals affected in the country so far to 2,117 in four different provinces.
Meanwhile, authorities in Ukraine have declared to WOAH the ASF situation "resolved" in Kirovohrad. There was just one confirmed outbreak in a backyard herd in this central province in early May.
ASF outbreaks in European wild boar passes 4,800
So far this year, the total number of ASF outbreaks across Europe has reached 4,802, according to EC's information system (up to June 17). This the latest total from 16 countries registering one or more outbreaks through this system since January 1.
Since the EC's previous update dated June 9, nine states have reported new cases in this population.
Registering the highest number of outbreaks in this category so far this year is Poland with a total of 1,823. Following are Germany (now with 683), Italy (586), Slovakia (448) and Hungary (303).
As well as these five nations, also reporting new ASF outbreaks to the EC System since the previous update were the Czech Republic (Czechia), Latvia, Lithuania and Serbia.
In 2022, there were a total of 7,442 outbreaks of ASF in wild boar across 15 European countries covered by the EC System.
Since ASF returned to the Czech Republic at the end of 2022, 43 wild boar have tested positive for the virus, according to the state veterinary service. Of these, four were confirmed over the course of seven days (June 14-21). All of the country's cases since December have been found in one of two districts in the northern region of Liberec.
In Germany, ASF virus was first detected in September 2020. Since then, virus-positive cases in the country's wild boar have reached 5,419, according to the national veterinary agency — the Friedrich-Loeffler Institute. This figure includes 71 cases confirmed over the previous 28 days. All of the cases reported in the wild population since the start of June have been confined to one district in each of the eastern states of Brandenburg and Saxony.
For the central Ukrainian province of Chernihiv, ASF among the wild boar population has been "resolved." This is according to a notification to WOAH, and comes after a single outbreak involving two animals in late March.
View our continuing coverage of the global African swine fever situation.