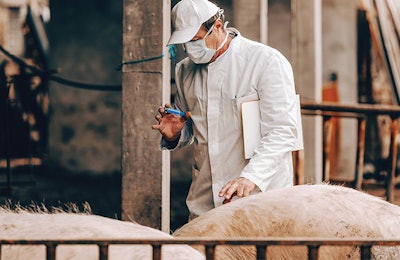 Efficacy rate of AVAC Vietnam vaccine for African swine fever has been shown to reach 95%
Vietnam expects to begin nationwide distribution of a vaccine for African swine fever (ASF) this month, according to reports.
The vaccine, developed and produced by AVAC Vietnam Co. Ltd., was approved for circulation in July 2022 and has been used under supervision at pig farms. The Ministry of Agriculture and Rural Development (MARD) continues to monitor the quality and effectiveness of the 600,000 doses that have been administered.
Deputy Minister of MARD Phung Duc Tien has asked AVAC to continue evaluating the immunity level of the vaccine after injection and to provide strict guidelines and recommendations to farmers. The efficacy rate of the AVAC vaccine, administered to pigs between the ages of 8 and 10 weeks, has been shown to reach 95%.
2 ASF vaccines approved in Vietnam
Vietnam has approved another vaccine for ASF, the other developed by USDA's Agricultural Research Service (ARS) and distributed by Navetco National Veterinary Joint Stock Co. In September 2022, Vietnam temporarily suspended the use of that vaccine after "dozens" of approximately 600 inoculated pigs in Phu Yen province died after being inoculated with it.
After evaluation, officials in Vietnam said the cause of death of the pigs was attributed to the vaccine being administered to pigs at incorrect ages and incorrect dosages, not following the supplier directions, the directions of MARD, nor the guidance of Vietnam's Department of Animal Health.
Test results from samples collected from pigs vaccinated in the province without supervision by veterinary agencies showed that some of the pigs also tested positive for a field strain of the ASF virus, porcine reproductive and respiratory syndrome virus, porcine circovirus type 2, and other pathogens, including Streptococcuss spp, Staphylococcus and E. coli.