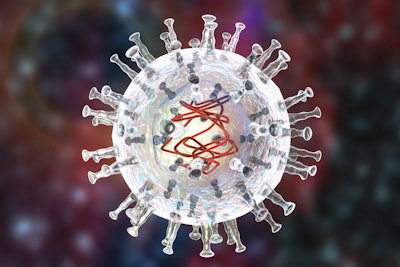 While the disease has not yet been eliminated from the region, latest figures indicate that Europe is making progress in gaining control over African swine fever in domestic pigs and wild boar.
In domestic pigs, total ASF outbreaks in 2022 were down by more than 70% year-on-year. Among wild boar, the regional total was 38% lower than in 2021.
During 2022, 527 outbreaks in domestic swine were recorded in 12 European countries, according to the Animal Disease Information System of the European Commission (EC). This compares with a total of 1,874 outbreaks in 11 nations in 2021. Last year's total is the lowest since 2018.
Recording the most outbreaks in this category last year was again Romania, with 329. However, this figure is 20% less than the 1,876 recorded by the country in the previous year. Behind Romania come Serbia (107 outbreaks in 2022), North Macedonia (30), Lithuania (16), and Moldova and Poland (each with 14).
Also registering outbreaks with the EC in 2022 were Bulgaria, Germany, Italy, Latvia, Slovakia and Ukraine. Each of these nations had a total of no more than seven outbreaks in commercial and backyard pigs.
In mid-January, the Serbian veterinary authority officially confirmed 106 ASF outbreaks in domestic pigs. According to this notification to the World Organisation for Animal Health (WOAH), cases were detected between January and December 2022 across 11 regions of the country. Directly impacted through mortality and culling was a total of 1,632 pigs. These were located on three farms — each with between 113 and 232 animals — and the other outbreaks were in backyard herds of up to 99 pigs.
Year-on-year drop in ASF among wild boar in 2022
Last year's EC total outbreaks among wild populations was 7,442 — 38% less than the 2021 total of 12,150. However, cases were registered by 15 European countries, which is three more than in the previous 12 months.
Again, Poland headed the country rankings with 2,152 outbreaks reported through the EC's System, but this was 33% less than in 2021. Next were Germany (1,626 outbreaks in 2022), Latvia (913), Hungary and Slovakia (each with 550), Romania (465), Bulgaria (387), Lithuania (302), Italy (277), Serbia (146) and Estonia (57). Totals for the Czech Republic, Moldova, North Macedonia and Ukraine were each less than nine outbreaks.
In its WOAH notification, the Serbian agency confirmed 179 ASF cases among wild boar during 2022.
3 countries report ASF cases in domestic swine in 2023
As of January 14, 25 outbreaks in domestic pigs have been registered with the EC System — 23 in Romania and two in Moldova.
Not covered by the EC System is Russia.
In the Samara region, one new ASF outbreak has been confirmed by the Russian animal health agency to WOAH. This involved a backyard herd of 48 pigs in early January.
Part of the Volga federal district, Samara has been the location of 12 ASF outbreaks over the past 12 months.
In the Czech Republic, ASF controls have been eased to allow owners of domestic pigs to move their animals. According to the State Veterinary Service, this applies to premises within the previous "infected zone," where wild boar tested positive for ASF in November last year. However, official authorization will be required prior to pig movements. Under the new lighter controls, a previous ban on hunting has been lifted in this 200-square-kilometer area, and public access has been restored.
2023 wild boar outbreak total passes 400
So far this year, a total of 469 outbreaks in wild boar have been confirmed to the EC by 11 countries (as of January 14).
Among the nations registering new cases in 2023 are Poland (152 outbreaks since January 1), Bulgaria (67), Germany (63), Slovakia (55) and Hungary (45). Also reporting cases with the EC so far this year have been the Czech Republic, Estonia, Italy, Latvia, Lithuania and Romania — each with 20 outbreaks or fewer.
In addition, the animal health agency of North Macedonia has reported to WOAH eight new cases of ASF in wild boar since late December. These bring the nation's total in this population over the past year to 26.
ASF has been detected again in wild boar in Russia's Kursk region after a four-week hiatus. According to the WOAH notification, 14 animals found dead tested positive for the virus in this region of the Central federal district this month.
Meanwhile, in the Southern federal district, six more infected wild boar were found dead in the Rostov region at the end of December.
To WOAH, the Russian authorities have declared the ASF situation "resolved" in the Chechen Republic. No further cases have been detected six cases in mid-November 2022. The infected wild boar were found at three locations in the Republic, which is part of the North Caucasian federal district.
Since Germany's first ASF cases in September 2020, its total ASF cases in wild boar has reached 4,839. This is according to the national veterinary agency, the Friedrich-Loeffler Institute (FLI; as of January 20).
Already in 2023, 116 cases of ASF have been confirmed by the FLI. All were in wild boar of various ages in the eastern German states of Brandenburg and Saxony, where previous cases have been confirmed.
Study: ASF virus transmission through artificial insemination
ASF virus can easily be transmitted in boar semen, according to recently published research. This represents another possible transmission route of this devastating disease within and between countries, say the scientists. The study reveals that the virus can easily pass in the absence of the boar — through artificial insemination.
The paper — titled "Artificial insemination as an alternative transmission route for African swine fever virus" – is published in the journal Pathogens.
In the study, lead author Virginia Friedrichs of the FLI and co-authors elsewhere in Germany and in the U.S. report their experiments. They used four boars, which they infected with the ASF virus. While semen quality was not affected, they detected virus genomes in semen from just two days after infection.
After insemination with extended semen from the infected males, half of the previously uninfected gilts tested positive for the virus within seven days. By day 35 post-insemination, all 14 gilts tested positive for ASF.
Of the 13 gilts that were pregnant, 12 either aborted or resorbed the embryos when the fever started. Furthermore, the scientists reported, abnormal fetuses were found in the remaining gilt, and the ASF virus had replicated in embryonic tissue.
Recently, it was reported that new studies are underway in Europe to investigate how the ASF virus can be transmitted in feeds and feed ingredients.
View our continuing coverage of the global African swine fever situation.