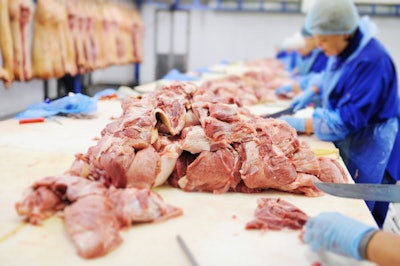 To maintain the viability of its operations in Germany, Danish Crown is to close one of its pig meat processing plants.
Based in Denmark, meat company Danish Crown blames the need to reorganize its German operations on the impacts of African swine fever (ASF).
Germany's first cases of ASF were detected in September 2020. Over the past two years, the country's status as a leading global exporter of pig meat has declined to the point where the pork industry is now mainly focused on domestic consumption.
"We simply have to make more money in Germany," said Group CEO of Danish Crown, Jais Valeur. "Therefore, we believe it is time to shift the focus from pure large-scale production to a more agile setup."
In order to achieve these aims, Valeur has announced the impending closure of the company's factory at Boizenburg, near Hamburg. By the middle of 2023, most of its activities there are to be transferred to the firm's slaughterhouse at Essen, near Bremen.
As Danish Crown ceases production at Boizenburg after almost 20 years, many of the 200 employees working there will be offered jobs at the company's other operations.
In Germany, Danish Crown operates one pig slaughterhouse, two cattle abattoirs, and three meat processing factories. In the past financial year (2021-22), the group's 3,400 employees produced 460,000 metric tons (mt) of products for the company. Revenue was reported to be DKK10.4 billion (US$1.52 billion).
Sharp decline in German pig production
While Danish Crown blamed the need to cut production in Germany on ASF, the disease has only been detected on seven pig farms in that country since 2020. However, the 4,800 cases in wild boar appear to have severely dented the confidence of potential importers of German pig meat outside the European Union (EU).
In recent years, pig meat production across the EU generally has been contracting, despite expansion in a few member states.
According to latest Agri-food Data Portal from the European Commission, the number of pigs slaughtered in the bloc was down by 4.6% year-on-year for the latest January-October period. However, the decline in Germany amounted to 9.2%.
Most recent published data from the nation's Federal Statistical Office (Destatis) was collected in early November 2022. At that time, Germany's total pig population had fallen by 1.01 million, or 4.5% over the previous six months. This was the fourth consecutive and significant six-month decrease since November 2020.
Reaching a new low figure, the November 2022 total pig population was down 10.2% year-on-year, and 18.2% below the same month of 2020.
This downward trend is also seen in this source's data for the size of the German breeding herd, and for the number of holdings with swine in the country.
Breeding sows numbered 1.4 million at the end of last year, or around 200,000 fewer than 12 months previously.
In November 2012, 29,900 farms with pigs were registered in Germany. Ten years later, there were just 16,900 — a fall of 43% over this period.
Other recent news from Danish Crown
In September 2022, Danish Crown announced it was cutting its workforce in Denmark.
At two of its slaughterhouses, a total of 350 employees faced losing their jobs. At the time, the company blamed the need for cuts on high energy and feed prices stemming from the war in Ukraine.
In the past fiscal year (2021-22), Danish Crown reported a 10% year-on-year increase in revenue at DKK64.2 billion. Operating profit was marginally higher. However, higher tax and interest charges reduced net profit for the year to DKK2.18 billion. This compares with DKK2.26 billion the previous year.
"We achieved stable results in a year of great challenges and a historically difficult business environment," said CEO Jais Valeur. "Before we had fully recovered from COVID-19, inflation hit us far harder than anticipated, so against that background our overall result is in fact quite acceptable."
Most of the company's profits are distributed back to its owners – Danish farmers – as supplementary payments for their supplies of hogs and cattle.
A month ago, it was announced that Camilla Sylvest had been elected as the new vice chair of the Danish Crown A/S board. Executive vice president at Novo Nordisk, Sylvest takes over the post from Mads Nipper. He resigned from the board at the end of the past financial year.