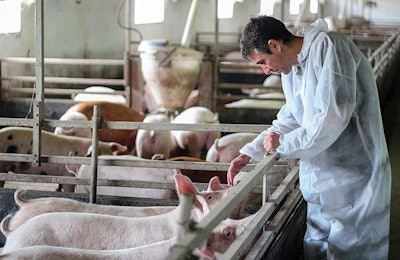 Ninety days of ASF-related pig movement restrictions in the German state of Baden-Wurttemberg have been lifted.
Two developments indicate a deterioration in the African swine fever (ASF) situation in Russia.
First cases have been confirmed in five new regions, based on official notifications to the World Organisation for Animal Health (WOAH). While three of these are located in the Volga federal district, one involving wild boar is in the Northwestern district. In each region, ASF had been absent for several months, and the source of infection is unknown.
Second, one of the recently affected premises was at a commercial farm with around 8,500 pigs. It was located in the Moscow oblast. This region of the Central federal district had been free of ASF since December 2018.
Other new areas registering the return of ASF were Orenburg, Penza and Mari El Republic. In each one, one backyard herd has been infected with the virus.
Meanwhile, one additional backyard outbreak was registered with WOAH in Kaliningrad (in the Northwestern federal district) and the Republic of Tatarstan (Volga district).
Since the start of this year, Russia's veterinary authority has now officially registered cases of ASF among domestic pigs and/or wild boar in 22 of its western regions. These cover five different federal districts.
Earlier in August, Russia's veterinary authority recorded ASF outbreaks at two commercial farms.
ASF outbreak total among Europe's pigs passes 300
Since January 1, the number of confirmed ASF outbreaks in domestic pigs in Europe has reached 324.
This is according to the Animal Disease Information System of the European Commission (EC; as of August 28). So far this year, 12 European states have now officially registered one or more ASF outbreaks through this system.
For comparison, 11 European states registered a total of 1,874 ASF outbreaks with the EC over the whole of 2021.
Registering the most outbreaks in 2022 has been Romania with 204, followed by Serbia with 49.
Further cases in domestic swine in central, eastern Europe
Over the past week, veterinary authorities of four other countries in this area have officially registered with WOAH new ASF cases in domestic pigs. None of these latest outbreaks hit large commercial premises.
Seven of these recent outbreaks were in North Macedonia, affecting a total of 285 swine. Starting over the period August 15-22, animals tested positive for the ASF virus at three farms — each with between 22 and 196 pigs — and four small backyard herds.
By the end of July, Poland's total outbreaks in domestic pigs so far this year had risen to 13. At that month, three outbreaks occurred in premises each with 9-110 animals.
In Romania, there have been four further outbreaks, affecting a total of 13 pigs.
At the end of August, two more pigs found dead in the northeast Ukrainian province of Sumy tested positive for the ASF virus.
Disease situation eases in Moldova, Germany
In Moldova, the ASF situation has been declared "resolved" to WOAH in three districts – Cahul, Edinet, and Straseni. Just one outbreak was confirmed in each district.
At the end of August, pig movement restrictions were lifted in three districts of Baden-Wurttemberg, according to Schweine.
Welcomed by farmers in this southwest German state, this development came after a 90-day ban on movements after one ASF outbreak at a farm in the Emmendingen district in May. Farmers in the previously restricted area can now market their pigs again without restrictions.
Source of the infection at the affected premises remains unknown.
Europe's wild boar total for year passes 5,000
So far this year, 5,092 ASF outbreaks among wild boar have occurred in Europe, according to the EC notification system (as of August 28). Registering one or more outbreaks in 2022 have been 14 of the continent's states.
In this population, recording the most outbreaks with the EC in 2022 has been Poland (1,402), followed by Germany (1,170), Latvia (511), Hungary (463), Slovakia (441), and Romania (343). To the EC since August 12, these countries have notified 37, 16, 38, 17, 13 and 4 new cases, respectively.
Since the previous update, Estonia, Italy, Lithuania and Moldova have also registered new cases in wild boar though this system.
For comparison, 12 countries confirmed with the EC one or more ASF cases in wild boar — a total of 12,150 outbreaks — during the whole of 2021.
ASF developments in wild boar in Germany, Italy, Russia
In Germany, ASF was first detected in September 2020. Since then, 4,258 wild boar have tested positive for the ASF virus (as of August 26), according to national veterinary agency, the Friedrich-Loeffler Institute. Cases in the wild population have occurred in three of the nation's eastern states — Brandenburg, Saxony and Mecklenburg-West Pomerania.
Over the past week, Germany's animal health agency has registered a further 96 cases of ASF in wild boar to WOAH. Of these, 72 were in Saxony and 24 in Brandenburg — all in districts where previous cases have been found.
Since the start of this year, Italy has confirmed to WOAH a total of 230 ASF cases in its wild boar population. Based on these notifications, all cases on mainland Italy have been confined to four provinces — two in the northwestern regions of Piedmont and Liguria, and two near Rome in the Lazio region.
In Russia, a further two cases of ASF have been confirmed in wild boar. For each of the regions Novgorod and Kaliningrad, one animal has recently tested positive. For the first of these, this was the first case of the disease since January. Both regions belong to the Northwestern federal district.
View our continuing coverage of the global African swine fever situation.