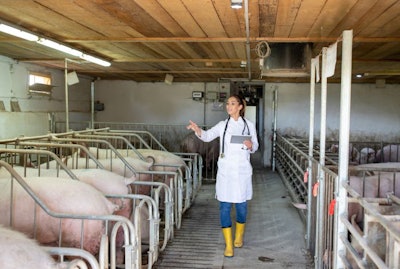 While South Korea has recorded its second farm outbreak in 2022, further ASF cases have been registered in Nepal and the Philippines.
In India, African swine fever (ASF) outbreaks have occurred in 14 states so far this year.
Over the past month, presence of the disease in pigs has been confirmed for the first time in 2022 in Madhya Pradesh, Jharkhand and Punjab.
Furthermore, wild pigs have tested positive for the first time in the northeastern state of Mizoram. One month ago, NDTV reported that infections had been detected in wild species in two forest areas in the Champhai district.
According to a local official in early August, 43,300 pigs have died in the state since March 2021, and more than 19,300 more have been culled.
While ASF appeared to be under control in Mizoram in December 2021, it reemerged in February. Since then, 9,891 pigs have died from the disease and 8,486 were culled in the state.
Since the end of July, cause of death in more than 1,000 pigs in the eastern state of Jharkhand has been confirmed as ASF. This came after previous suspicions over the cause. According to India Today, 800 of the deaths were in the district of Ranchi, including at a government pig breeding station, and a university.
In order to gain control over the spread of infection, the state's authorities have sent an advisory note to all districts. They have set up a toll-free number for pig owners to report cases, and they are being urged to dispose of any infected carcasses properly.
In the city of Rewa, more than 2,000 pigs have died of ASF over a period of just two weeks, reported CNBC TV18 this week. Rewa is location in the central state of Madhya Pradesh. To try to prevent the virus spreading to more of the city's 25,000 pigs, officials have introduced a ban on the transportation, purchase and sale of pigs and pig products.
In the north of India, ASF virus has so far been detected in four more communities in the Patiala district of the state of Punjab. The development was reported by Tribune India, along with the first ASF cases in the district of Fatehgarh Sahib.
Farm outbreak in South Korea: call for vigilance
On August 18, ASF was confirmed at a farm in Yanggu county in Gangwon province. Gangwon is located in the northwest of the country, and Yanggu is on the border with North Korea. The great majority of South Korea's ASF outbreaks over the past three years have been in its northernmost provinces.
According to the agriculture ministry, the affected farm had 5,614 pigs. The positive tests for ASF led to an immediate 48-hour ban on all pig movements and disinfection of swine farms and vehicles in the east of the province.
Testing of farms in the area have revealed no further ASF cases. However, officials have called for high biosecurity to be maintained on farms. This risk of the virus spreading is elevated by recent heavy rains and flooding.
After confirmation of the outbreak, Prime Minister Han Duck-soo called for all involved to remain alert in order to contain the infection. According to the Yonhap news agency, this was South Korea's second ASF outbreak in domestic pigs this year. It came 85 days after the previous outbreak in May.
The number of confirmed ASF cases in South Korea's wild boar population stands at 2,658, according to Pig People (as of August 29). This is an increase of six from the previous update dated August 8. The disease was first confirmed in the country in September 2019 among domestic pigs. So far, 23 outbreaks have occurred on the nation's farms.
ASF outbreaks registered in more regions of Nepal
Since ASF was first detected in Nepal in March, there have been 22 confirmed outbreaks in swine. This is according to the World Organisation for Animal Health (WOAH). Overall, almost 9,000 pigs have been directly impacted — all on premises described by the national animal health agency as "farms."
Over the past two months, the disease has spread in a westerly direction across the nation. One or more outbreaks have now occurred in four of the five development regions.
According to the latest notifications to WOAH, five new outbreaks were confirmed from the start of July until mid-August. Each with between 120 and 1,127 pigs, the farms were located in four different zones — Bagmati, Bheri, Gandaki and Rapti.
Furthermore, The Himalayan Times reported in early August that ASF had also hit a number of commercial farms in Panauti. This town is located in the Bagmati zone.
More ASF cases in Philippines' Mindanao island province
In Zamboanga City, latest reports from the Philippine News Agency (PNA) put pig mortalities from ASF so far at almost 3,900, with around 900 more animals culled. Affected have been 950 hog owners in 29 of the city's 98 communities.
Zamboanga city is located on the western tip of the country's southernmost main island, Mindanao.
Elsewhere in the Philippines, the ASF situation appears to be under control. Lately, PNA has reported few new cases of ASF, and first steps are being taken to repopulate with pigs, reported PNA. In several provinces in the Central Luzon region, hog raisers have received small numbers of pigs. Acting as sentinels for any lingering ASF virus, the pigs are given to former owners whose animals were culled in previous outbreaks. Premises must maintain a level of biosecurity, and the pigs have blood samples taken to monitor for the virus.
At the same time, PNA reports that more provinces are imposing a one-month suspension on pigs and their products from ASF-affected areas.
In July 2019, ASF was first reported in the Philippines. Since then, 857 outbreaks directly impacting more than 482,000 pigs have been registered with WOAH. Most recent of these was in early April.
ASF developments elsewhere in Asia
In mid-August, Focus Taiwan reported that the territory remains on alert for ASF. An official warning was issued after five travelers were prevented from entering Taiwan in a two-month period. Each had attempted to bring in illegal pork products. With the Mid-Autumn Festival starting on September 10 — celebrated with gift-giving and barbecues — Taiwanese authorities issued the reminder. Pig meat products from ASF-affected countries are not allowed into the territory in passenger luggage or by mail. Heavy fines may be imposed. So far, no cases of ASF have been detected in Taiwan.
One week ago,Vietnam announced it had suspended testing of an ASF vaccine in pigs. The decision was taken after high mortality was observed among pigs on the trial, dashing hopes of a first vaccine to protect pigs from this devastating disease.
View our continuing coverage of the global African swine fever situation.