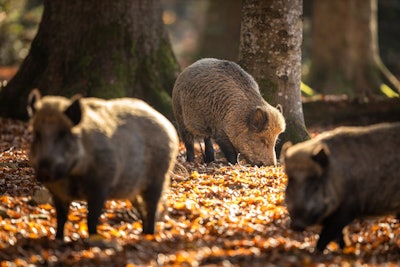 The number of positive cases in wild boar in the region diminish the prospect of imminent and effective control of the disease; however, the number of new cases in domestic pigs in the region appears to be in decline.
So far this year, the number of confirmed African swine fever (ASF) outbreaks in domestic pigs in Europe has reached 200.
This is according to the Animal Disease Information System of the European Commission (EC; as of June 24). By that date, 10 European states had officially confirmed one or more ASF outbreaks.
Since the EC's previous update on June 18, seven more outbreaks were registered with this system — four in Romania, two in Moldova, and one in Ukraine.
With an outbreak total of 168, Romania accounts for the majority of the region's ASF cases this year. Next comes Serbia, where 11 outbreaks in swine have been registered in 2022 but none since February 10.
In terms of domestic pigs, Europe appears to be gaining better control over ASF this year than in the previous 12 months. Over the whole of 2021, 11 European states registered a total of 1,874 ASF outbreaks with the EC.
Further cases in eastern European swine
At the end of June, Poland's chief veterinary office confirmed a fifth outbreak of ASF.
Latest cases were on a farm with 105 pigs in the central-western province of Greater Poland (Wielkopolskie). The affected premises is located in the same county as an earlier outbreak, and it brings the total pigs directly affected by the disease in Poland so far this year to 2,263.
Latest official reports from the Romanian veterinary authority indicate the virus continues to infect mainly the non-commercial sector. According to the most recent notifications to the World Organisation for Animal Health (WOAH), a total of 20 animals were directly impacted at seven locations.
Furthermore, ASF has been detected again in Russia's Astrakhan region. Presence of the virus was confirmed following mortalities in two backyard herds at the end of June. Affected premises in two different districts in the region, where no new cases had been reported for almost two months.
Astrakhan is located in the Southern federal district of Russia.
Meanwhile, in the North Caucasus district, the authorities have declared the ASF situation "resolved" in Stavropol krai. This came after a single outbreak in early April.
Europe's wild boar total passes 4,100
So far this year, 4,106 ASF outbreaks among wild boar have occurred in Europe, according to the EC notification system (as of June 24).
Recording the most outbreaks in 2022 has been Poland (1,245), followed by Germany (906), Hungary (389), Slovakia (360) and Romania (314). Since the previous update on June 18, Italy, Latvia and Lithuania have also notified the EC of new outbreaks.
For comparison, 12 countries registered with the EC one or more ASF cases in wild boar — a total of 12,150 outbreaks — during the whole of 2021.
In Germany, ASF was first detected in September of 2020. Since then, 4,044 wild boar have tested positive for the ASF virus (as of July 1), according to national veterinary agency, the Friedrich-Loeffler Institute. Wild animals continue to tested positive for ASF in three eastern German states — Brandenburg, Saxony, and Mecklenburg-West Pomerania — based on recent notifications to WOAH.
To this agency, Italy's animal health agency has reported 198 wild boar that have tested positive for the ASF virus since the start of this year. Latest cases were in provinces and regions on the Italian mainland where previous outbreaks have been confirmed.
The scale of the challenge to control the spread of ASF in Italy is illustrated in a local media report.
According to Il Secolo XIX, there may be as many as 100,000 wild boar in the northwestern region of Liguria alone. While numbers have been growing over recent years, there has been a population explosion in recent months. The animals have become a common sight on beaches as well as in gardens, even in the center of the region's capital, Genoa.
View our continuing coverage of the global African swine fever situation.