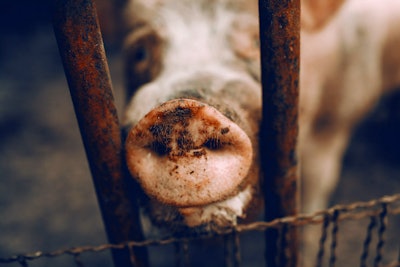 Lazio region of central Italy plans to cull 50,000 wild boar, ASF detected in three domestic Italian herds
Italy's Lazio region has proposed doubling the number of wild boar to be killed this year as a means to protect the country's pork industry from decimation by the African swine fever (ASF) virus. So far, just three of Italy's pig herds have become infected with ASF, together with more than 180 wild animals. While Poland, Romania, and Ukraine have registered new cases in small pig herds, Europe's total cases in wild boar so far this year have now passed 4,000.
In the central Italian region of Lazio, a plan to cull 50,000 wild boar has been strongly opposed by animal rights campaigners.
A representative of one group says that hunting would not be effective, reports Wanted in Rome. However, the country's pig farmers support the recently announced plan as a means to protect the national pork sector, which is worth an estimated EUR8 billion (US$8.4 billion). The intended cull is around twice the number of wild boar shot during a normal hunting season in this area.
According to the same source, wild boar originally from a national park have increased in number and spread. Last week, one was found in central Rome. The animals can become aggressive, and cause a nuisance and damage, and they present a risk of transmitting the ASF virus and other pathogens to domestic pigs.
Measures have been put in place to release EUR50 million to support Italy's pig farmers, reports news agency ANSA. This sum will target improvements to biosecurity, said agriculture minister Stefano Patuanelli. In April, the first EUR15 million was released, and the minister hopes that agreement will be reached in early July for the next tranche of financial support.
Latest ASF situation in Italy
At the start of this year, ASF was detected for the first time on the Italian mainland in the northwestern regions of Piedmont (Piemonte) and Liguria. Up to mid-June, 151 wild boar had tested positive for the ASF virus, according to official reports to the World Organisation for Animal Health (WOAH).
In Lazio, first cases of ASF in wild boar were identified in early May. Up until mid-June, 34 cases had been reported to WOAH — mainly in the Rome area, with one case in a different province.
Earlier this month, Italy's first cases in domestic swine were detected in the Rome area. Contact with wild animals was reported as the source of infection in a backyard herd of nine pigs. Two of them died, and the rest were destroyed.
So far this year, Italy has registered three ASF outbreaks in domestic pigs. This is according to the latest report of the Animal Disease Information Notification System operated by the European Commission (EC).
General ASF situation in European pigs
As of June 18, 10 European states had officially confirmed one or more ASF outbreaks among domestic pigs so far this year. This is according to the EC's disease notification system.
For the year so far, the region's outbreaks in commercial and backyard pigs had reached 193. Of these, 164 were in Romania. In Serbia, 11 outbreaks in swine have been registered in 2022 up to February 10.
As well as Italy, Bulgaria, the Republic of Macedonia, Germany, Moldova, Poland, Slovakia and Ukraine have each registered between one and four ASF outbreaks in pigs so far this year.
For comparison, 11 European states registered a total of 1,874 ASF outbreaks with the EC during the whole of 2021.
New outbreaks on central European farms, backyards
Following a hiatus of 12 months, ASF has been detected again in the Moldovan district of Falesti. Affected was a farm with around 200 pigs earlier this month. Source of the infection is unknown, according to the WOAH report.
In a separate notification, Moldova's authorities have registered a second outbreak in domestic pigs in the northwestern district of Edinet. Affected was a backyard herd of just two pigs, both of which died. It appears to be within 20km of the previous outbreak in mid-May.
Both of these Moldovan districts are in the northwest of the country, and share borders with Romania.
Also reporting the return of ASF is Kirovohrad in central Ukraine following a period of four months without any reported outbreaks. Source of the infection in a backyard herd of four pigs is unknown.
In Poland, the chief veterinary office has confirmed two new outbreaks. They bring to four the nation's total so far this year.
During mid-June, the virus was detected firstly in the two pigs at a farm in the western province of Lubusz, and then among 74 animals in Warmia-Masuria in the northeast of the country. The two previous outbreaks were in the central province of Greater Poland (Wielkopolskie) at the start of June.
Over the past week, just one new outbreak has been registered in Romania. According to the WOAH report, this affected a non-commercial herd of just two pigs in Vaslui. This eastern county borders Moldova.
Europe's ASF wild boar total passes 4,000
So far this year, 4,030 ASF outbreaks among wild boar have occurred in Europe, according to the EC notification system (as of June 18).
Recording the most outbreaks in 2022 has been Poland (1,224), followed by Germany (894), Hungary (374), Slovakia (347), and Romania (312. Since the previous update on June 10, Latvia, and Lithuania have also notified the EC of new outbreaks.
For comparison, 12 countries registered with the EC one or more ASF cases in wild boar — a total of 12,150 outbreaks — during the whole of 2021.
According to the latest report from Poland's chief veterinary office, a further 23 ASF outbreaks are confirmed, involving 26 wild boar. Suspected during the period May 25 to June 9, these animals were found in six provinces. They bring to 1,100 the nation's total wild boar outbreaks so far this year, according to this source.
In Germany, ASF was first detected in September of 2020. Since then, 3,994 wild boar have tested positive for the ASF virus (as of June 21), according to national veterinary agency, the Friedrich-Loeffler Institute. Wild animals have tested positive for ASF in three eastern German states — Brandenburg, Saxony, and Mecklenburg-West Pomerania.
Despite the proximity of previous cases in Belgium and Germany, France remains free of ASF. Making every efforts to remain disease-free, the French agriculture ministry has launched a multilingual communication campaign warning to hunters, farmers, and hunters. The campaign sets out the precautionary measures needed to avoid introducing or spreading the ASF virus in France.
View our continuing coverage of the global African swine fever situation.